"Just so you know, there were a number of rocks in the road when we ran it earlier this morning to scout it for you guys. And it's pretty cold up there. So, just be aware."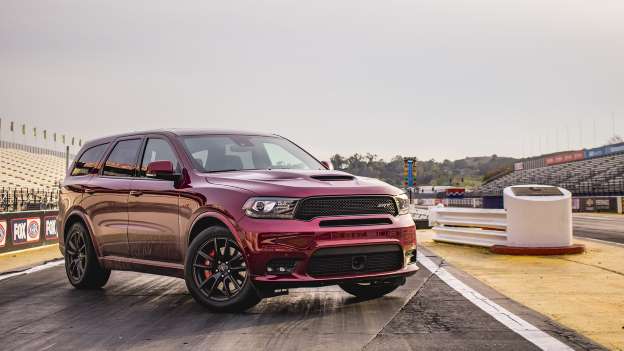 Not exactly the thing you want to hear when you're about to hop in a 475-horsepower Dodge Durango SRT and run the full length of Angeles Crest Highway, one of the best-known, technically-challenging driving roads in the country. But when someone tosses you the keys to a high-performance studio apartment and points toward the mountains, you try not to ask too many questions. You just hope to stay alive.
Research the Dodge Durango on MSN Autos
Booby-trapped route aside, the Dodge Durango SRT seems like a questionable choice for an Angeles Crest cruiser. It's big, heavy, and essentially the exact opposite of the exquisite canyon carvers one usually associates with a road like this. But a funny thing happens on the way to the cliff's edge; the adaptive suspension sticks the truck to the twisting tarmac like a kindergarten glue project, the 6.4-liter Hemi V-8 roars through the high-altitude air, and the rear-biased all-wheel-drive system saves my behind after I let the truck's swing out way too far through a gravel-strewn turn. Oops.
Like the Jeep Grand Cherokee Trackhawk, its brother from another mother, the Durango SRT is a hilariously-overwrought piece of functional butt-kickery. It's what you get when you stuff a massive engine from a muscle car into a three-row crossover, and it's one of the most ridiculous family vehicles you can buy today.
To find out, I followed up my Angeles Crest drive by spending a week bouncing all over Southern California with the Citadel. Spoiler alert: Even sans SRT bits, this stretched Grand Cherokee is a surprising hoot.
The Pros
Man, that free-breathing 6.4-liter V-8 engine in the Durango SRT is good. It's the same powerplant found in several trims of the Charger and Challenger, and wouldn't you know, it sounds exactly the same. 475 horsepower and 470 pound-feet of torque are perfect numbers for the truck's most common use—embarrassing many sports cars at stoplights—without making the behemoth too much to handle.
The Cons
I appreciate that Dodge has done its best to maintain the classic two-box SUV shape here, even though it looks like it's melting a little. But the back end is seriously uninspired, especially in SRT trim. I don't want my 475-horsepower SUV to look like a Grand Caravan from the rear.
The optional Trailer Tow package also adds a few skidplates, and every AWD model except the SRT can be locked into an ersatz "low range"…but borrow some tech from Jeep and be done with it, Dodge.