The original GMC Syclone from 1991 was a 280-horsepower (remember this was 1991) all-wheel-drive compact truck that would reach 60 miles per hour from a standstill in only 4.3 seconds.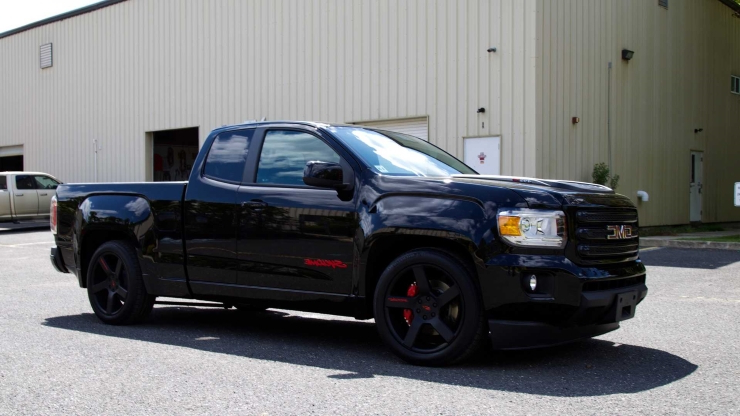 But the GMC Syclone was history after only 2,995 units were built and sold in 1991, although its gutsy 4.3-liter turbocharged V6 lived on under the hood of the heavier, and thus slower (by 0.9 second in the 0 to 60 sprint), GMC Typhoon. The latter was a high-performance SUV produced in 1992 and 1993 that shared its Sonoma/Jimmy bones with the Syclone.
Gladly, some folks find history inspiring, and that's how we found ourselves in St. Petersburg, Florida for the public unveiling of the 454-hp 2019 GMC Syclone, a revival tribute to the original truck that's put together by Specialty Vehicle Engineering (SVE) of Toms River, New Jersey. SVE is the same company that put together the 800-hp Yenko/SC Silverado last year, so you know they mean business.
We enjoyed a private tour of the GMC Syclone guided by 1986 NHRA NED Drag Racing Hall of Fame honoree Ed Hamburger, founder and owner of SVE. Ed was quick to point out that the heart of the new Syclone is SVE's own supercharger package, which consists of a centrifugal supercharger that, instead of gears, uses a viscous drive planetary system and therefore lacks the often disappointing and annoying whine that many superchargers make.
One of the things that impressed us most when looking at the Syclone in person is what a good-looking truck it is. It's not often that we see good visual taste matched with real muscle in a pickup truck of all things, but good taste is the name of the game here.
SVE created side skirts so subtle they are only perceptible if you are a really good observer, and they have the double mission of enhancing the Syclone's closeness to the pavement. They also cover the exposed frame that is so noticeable on the otherwise good-looking GMC Canyon, on which the Syclone is based. Mission accomplished.
The Syclone conversion adds $39,995 to the price of a GMC Canyon, which can make it an expensive proposition even though all components used in the conversion, as well as the powertrain, are covered by a 3-year/36,000 miles warranty. But if you are cool with the pricing you can order your Syclone right now through any GMC dealer in the United States. Hurry up, God only knows how many will be left by the time you read this.