Shelby GT 500, 5.2-liter V8 supercharged with more than 700 hp.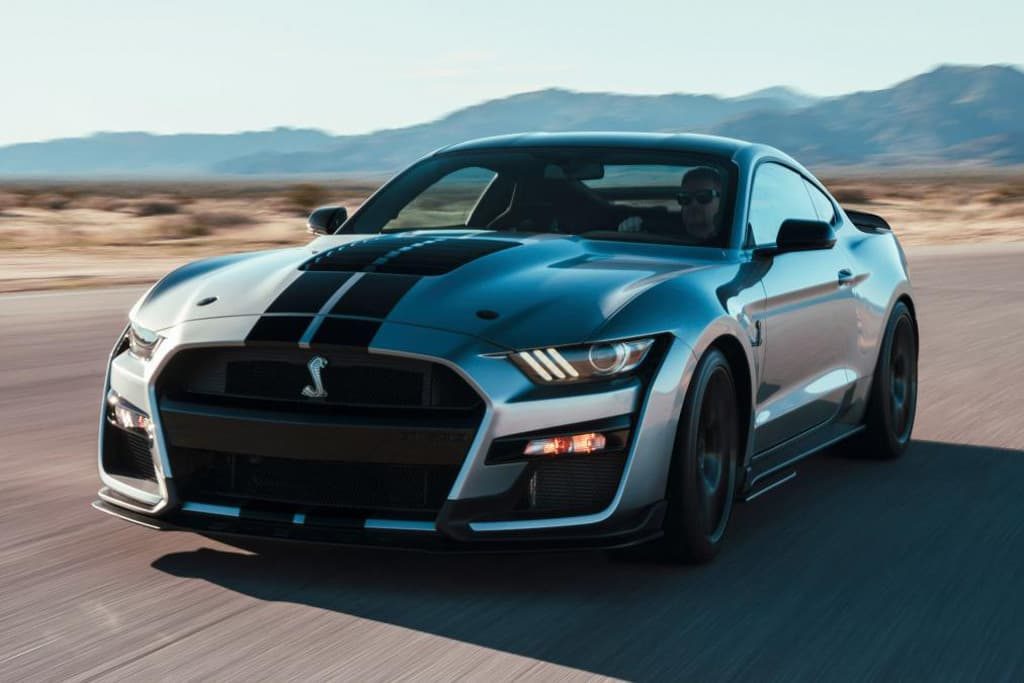 The sixth generation Ford Mustang has been on the market since 2014. Now comes the top version: The Shelby GT500 will be presented at the Detroit Motor Show 2019. With more than 700 hp-Ford still does not say so – It is the strongest street-legal Mustang of all time.
In autumn 2019, the Shelby GT 500 joins the Shelby GT 350. The 5.2-liter supercharged V8 is built by hand. A 2.65-liter Roots compressor is housed in the V of the engine. The Tremec seven-speed dual-clutch transmission changes gears in less than 100 milliseconds- much faster than any manual transmission. In addition to the normal mode, the transmission also offers modes for bad weather and sport as well as a drag-and-track mode. A launch control can also be selected. A carbon shaft brings the power backwards. The sprint to 100th in less than three seconds to succeed, the quarter mile is completed in less than 11 seconds.
The Shelby GT 500 has new electronic power steering, revised suspension geometry, other coil springs and adaptive "MagneRide" shock absorbers. On the 20-inches, Michelin Pilot Sport 4 s or the more aggressive Pilot Sport Cup 2 are raised. The delay is accomplished by huge 420- millimeter discs and Brembo six-piston calipers. These brakes have a 20 percent larger friction surface than the Shelby GT 350.
Optionally, there is a handling package with adjustable suspension strut bearing and a spoiler with Gurney flap. For the hardcore fans, there's a "carbon fiber track" package with 20-inch carbon wheels that are half an inch wider at the back (11.5 instead of 11 inches). Then there's the Michelin Pilot Sport Cup 2. There's also an adjustable GT4 carbon wing and another splitter. The rear seats have been removed for weight reduction.
Inside there is a 12-inch color LCD instrument cluster and an 8-inch touch screen. Optionally available are a carbon-fiber dashboard, accent stitch suede door panels and Recaro racing seats. There is also a twelve-speaker Bang & Olufsen audio system. To the prices Ford is still silent.