US President Donald Trump has stepped up his war of words over trade tariffs, threatening to "apply a tax" on imports of cars from the European Union.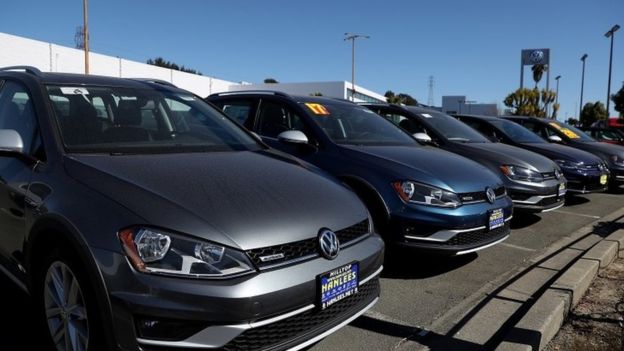 Mr Trump said other countries had taken advantage of the US for years because of its "very stupid" trade deals.
The trade wrangle began on Thursday when Mr Trump vowed to impose hefty tariffs on steel and aluminium imports.
That brought a stiff response from trading partners and criticism from the IMF and WTO.
EU trade chiefs have reportedly been considering slapping 25% tariffs on around $3.5bn (£2.5bn) of imports from the US, following Mr Trump's proposal of a 25% tariff on imported steel and 10% on aluminium.
They would target iconic US exports including Levi's jeans, Harley-Davidson motorbikes and Bourbon whisky, European Commission head Jean-Claude Juncker said.
What has Mr Trump said now?
In a tweet on Saturday, the president said: "If the EU wants to further increase their already massive tariffs and barriers on US companies doing business there, we will simply apply a Tax on their Cars which freely pour into the US.
Mr Trump added: "Our jobs and wealth are being given to other countries that have taken advantage of us for years. They laugh at what fools our leaders have been. No more!"
How many EU-made cars go to the US?
The US is the largest export market for EU cars – making up 25% of the €192bn (£171bn; $237bn) worth of motor vehicles the bloc exported in 2016 (China was second with 16%).
Do fellow Republicans back Mr Trump's trade threats?
A number have questioned the wisdom of the tariff proposal and have been urging the president to reconsider.
The president is using a clause in international trade rules which allows for tariffs for national security reasons.
But his move has not come totally out of the blue.
The commerce department recommended tariffs in February after conducting a review under rarely invoked national security regulations contained in a 1962 trade law.
Mr Trump had already announced tariffs on solar panels and washing machines in January.
What has the international response been?
The IMF said others could follow the US leader's precedent by claiming tough trade restrictions were needed to defend national security.
But that's unlikely to bother Mr Trump. His campaign rhetoric drew heavily on the perceived threat to traditional US industries from foreign interlopers acting unfairly. He's simply continuing in that vein.
And it's unlikely to register much with the steelworkers of Pennsylvania and Indiana. Concerned about their jobs and the future, many will welcome Mr Trump's comments.