Beijing has vowed to retaliate after the United States published a list of about 1,300 Chinese products it plans to hit with a 25% tariff.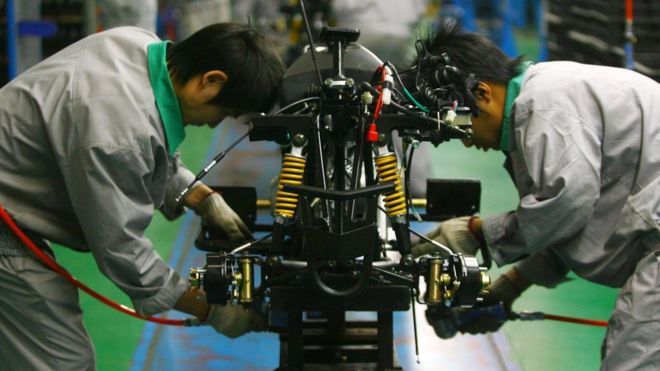 The White House said the proposed extra tax on the imports was a response to unfair Chinese practices around intellectual property rights.
The wide-ranging list includes items such as medical products, televisions and motorcycles.
Beijing said it "strongly condemns and firmly opposes" the tariffs.
"Such unilateralistic and protectionist action has gravely violated fundamental principles and values of the WTO [World Trade Organisation]," the Chinese embassy in Washington said in a statement on Wednesday.
Trade war fears
Economists had previously warned the Trump administration's move to slap China with the tariffs could prompt Beijing to retaliate and lead to higher prices for American consumers.
The plans for tariffs are the result of an investigation that US President Donald Trump ordered last year into China's intellectual property practices.
Last month, he said the probe found evidence of problems, such as practices that pressure US companies to share technology with Chinese firms and ordered a list of products drawn up for tariffs.
Hopes for a resolution
When announcing its intentions to retaliate against the US tariffs on Wednesday, the Chinese embassy in Washington said it hoped the US would "with sense and long-term picture in mind, refrain from going down the wrong path".
China's economy has become less dependent on exports in recent years, which is likely to blunt the effect of the tariffs, according to analysts for S&P Global Ratings.
The US was the destination for about 18.2% of Chinese goods in 2016 according to the US trade department.
The list includes parts of communication satellites, semiconductors, aviation equipment and brewery machinery, as well as more niche products such as bakery ovens and rocket launchers.
Joseph Brusuelas, chief economist at RSM US, said he did not think the Chinese would take the list seriously, pointing to low-demand items like monitors with video cassette recorders.
Instead, he said the main outcome was likely to be higher prices for American manufacturers – and, eventually, consumers.
That may not be enough to persuade the Trump administration to opt for a different strategy, he added.
"At this point, if the Trump administration does not follow through on this they're going to lose face and credibility," he said.