Videoconferencing is technology that enables many participants to communicate with each other from different locations. Not only does this provide the ability to see others in the meeting, they are also able to talk to them in real time.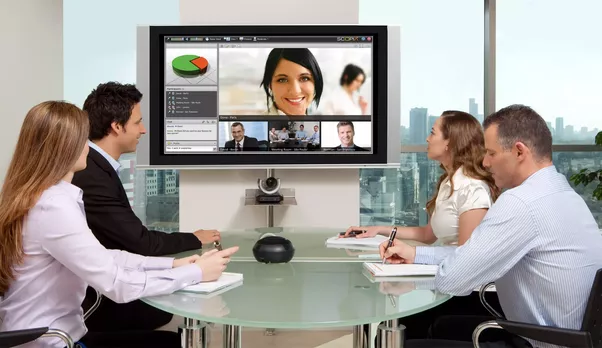 More and more businesses are using videoconferencing technology because of its many benefits. These benefits include using video to educate employees and helping to create a supportive e-learning environment within their company.
Save Money on Travel
It costs a lot of money to travel. Businesses can save money by having their employees drive rather than fly to a meeting, however, there are still gas and toll costs.
If a company wants to fly an employee to a client site, not only is the plane fare expensive, but they also have to pay for mileage to the airport, parking fees, transportation once at thedesired location, hotel, and meals.
Although face-to-face interactions with partners, colleagues, and customers have unique benefits and will always have a place in business, videoconferencing allows for more people to participate while saving money.
Think about how much it would cost a company to send ten employees to three different client sites. Don't forget to think about not only the hassles but also the costs involved with making travel arrangements for those same ten employees.
Compare that to putting those same employees in one room participating in three different videoconferences. All the company needs is to have the necessary equipmentso they can sit in front of a screen at the chosen meeting time.
Ability to Telecommute
Because of advanced technology like videoconferencing, telecommuting has become a more viable option for companies.
A study by FlexJobs and Global Workplace Analytis shows how many employees are able to benefit from telecommuting.One of the most impressive findings from that study is that telecommuting has increased 115% in the last ten years.
Our society is changing every day with more families having two working parents as well as a growth in single-parent families.
Companies that allow their employees to work from home, even sporadically or on a part-time basis, improve the lives of those employees by giving them the opportunity to work from home when necessary or desired.
Videoconferencing provides the digital workplace for those employees while working from home. They are able to stay connected with customers and colleagues and participate in important meetings or conferences even when they are not in the office.
Increases Productivity
There is something to be said for face-to-face communications, even if this interaction is done via videoconferencing. It is so easy to misinterpret emails, texts, or other written correspondences. And don't forget how many times emails are either lost, never delivered, or accidentally deleted.
This can lead to a decrease in productivity, hurt feelings, anger, lack of accountability, and missed project deadlines.
On the other hand, being face-to-face in meetings and conferences can result in participants staying more alert and focused because others are watching. As a result, participants are more in synch, projects can be completed faster, and productivity increases.
Saves Time
Time is money. Think about all the time it would take an administrator in a company to make travel plans for multiple people for numerous meetings and conferences. Besides the costs involved in the actual travel arrangements, there is also the cost of using valuable time resources.
Videoconferencing helps companies get the most of out of each and every meeting, including the ease of adding employees to the meeting and changing the day or time.
File Sharing
Have you ever been part of an email chain that goes on and on and on? Let's say you have a chart you want 15 different people to see. You send an email to these 15 people, attach the chart to the email, and add a message.
Now you have to keep track of all of the responses as well as who said what in each email. Many people like to reply to every email, even if the response is just to let the sender know the email was received, like "got it".
Although it is nice to know that someone has received an email, it can add to the confusion of trying to track everyone's opinions, reactions, and responses to your chart.
Sharing charts and other important documents in a videoconferencecan make file sharing much more efficient and effective.