At an event in New York, Microsoft today showed off its new line of Surface products, including updates to the existing laptop line and a new product: the Surface Headphones. The laptops also come in an additional new color that should please fans of all things dark mode.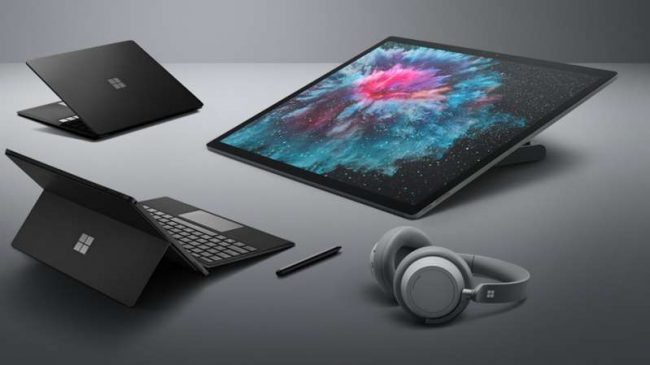 Surface Pro 6 and Surface Laptop 2 now in all-black finish
Confirming the leaks just hours before the event, Microsoft kicked off the event with the announcement of the Surface Pro 6, a refresh of the company's laptop / tablet hybrid that now comes in a new matte black color and an upgraded Intel 8th Generation processor. It weighs in at 1.7 pounds, and boasts up to 13.5 hours of battery life.
The Surface Pro 6 and Surface Laptop 2 start at $899 and $999, respectively, with preorders starting today and shipping on October 16th.
Surface Studio 2
In addition to the refreshes, Microsoft showed off the new Surface Studio 2, its creative-focused device that hasn't been upgraded since its December 2016 release. Surface Studio 2 has a 28-inch display with 50 percent improved graphic performance.
Surface Studio 2 also begins its preorder today starting at $3,499, and ships on October 16th.
New to the Surface lineup are the Surface Headphones with built-in Cortana. It's a pair of over-the-ear wireless Bluetooth headphones, and the volume and noise-cancellation dial is built into the cups. It also has automatic pause and play that stops audio when the headphones are taken off the ears. The headphones weigh 0.64 pounds, have a battery life of up to 15 hours, and come in a light gray color. They charge by USB-C in about two hours.
Like the Xbox, the Surface lineup will also get an All Access program that lets customers bundle a Surface device with accessories and Office 365 for $24.99 a month for two years. The price will obviously vary depending on the actual device you plan to buy, but that should make it easier for Windows users to get the device and programs they already plan to use and pay it off in installments. According to Microsoft, Surface All Access will be available first only in the US.
App Mirroring
After abandoning Windows Phone efforts, Microsoft looks to be bridging the gap between its PC and mobile OS with a new app mirroring feature that lets users cast their Android screen onto a Windows 10 device. The feature is inside of a Your Phone app, which lets you select an app from your smartphone to use on a Windows 10 desktop. You can also pair it and browse file types to drag and drop into the PC.