Powerful Hurricane Michael is set to make landfall in Florida later on Wednesday, forcing mass evacuations in the southern US state.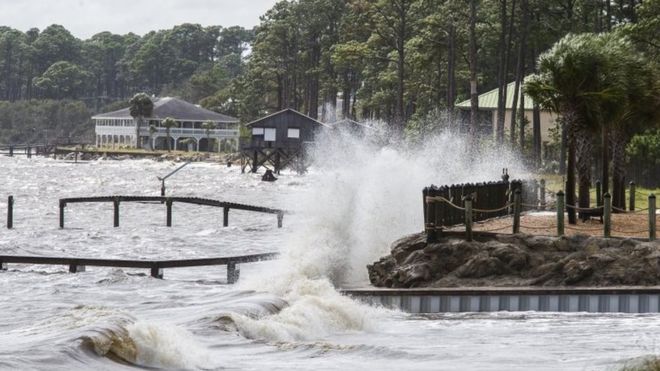 A category three storm with winds near 125mph (201km/h), Michael is expected to strengthen further when it hits the Florida Panhandle or Florida Big Bend in the north-west, meteorologists warn.
More than 370,000 people have been ordered to evacuate in Florida.
Florida, Alabama and Georgia have declared states of emergency.
What are the latest developments?
In its bulletin, the Miami-based National Hurricane Center (NHC) said: "Some further strengthening is expected overnight and on Wednesday, and Michael is forecast to become a category four hurricane before it makes landfall."
The NHC warns that some regions of Florida may see storm surges of up to 12ft (4m).
It said that at 03:00 GMT on Wednesday, the eye of the storm was about 220 miles south-west of Panama City, Florida.
Michael is currently moving northwards at 12mph.
"Weakening is expected after landfall as Michael moves across the south-eastern United States," the NHC added.
Florida Governor Rick Scott called Michael "a monstrous storm" and urged residents to listen to officials.
"Let me be clear – the storm surge that our coastal counties are facing is deadly," the governor tweeted.
"Do not ignore warning from local officials – this storm could kill you. We can rebuild your house, we cannot rebuild your life."
Despite the warnings, local officials believe a far smaller number of people have in fact moved away.
Schools and state offices in the area are to remain shut this week.
On Tuesday, Gov Scott said he had activated 2,500 Florida National Guard troops.
Heavy rains are forecast for the Carolinas, which were drenched by Hurricane Florence last month.
North Carolina Governor Roy Cooper told residents: "I know people are fatigued from Florence, but don't let this storm catch you with your guard down."
Where has Hurricane Michael hit so far?
The storm caused widespread destruction in Central America over the weekend, where at least 13 people have been reported dead.
According to the Associated Press, six people were killed in Honduras, four in Nicaragua and three in El Salvador.
Images on social media showed evacuating families wading through water to get to safety.
Parts of western Cuba, which was hit by the storm on Monday, were forecast to receive up to a foot of rain.
Offshore oil platforms in the Gulf of Mexico have evacuated workers, halting nearly a fifth of daily production.
Five drilling rigs have been moved out of the storm's path, according to the US Bureau of Safety and Environmental Enforcement.