A strong wintry storm still was dumping snow Friday in far northern New England after creating traffic havoc that claimed at least eight lives across the country's eastern half and knocked out power for tens of thousands of people.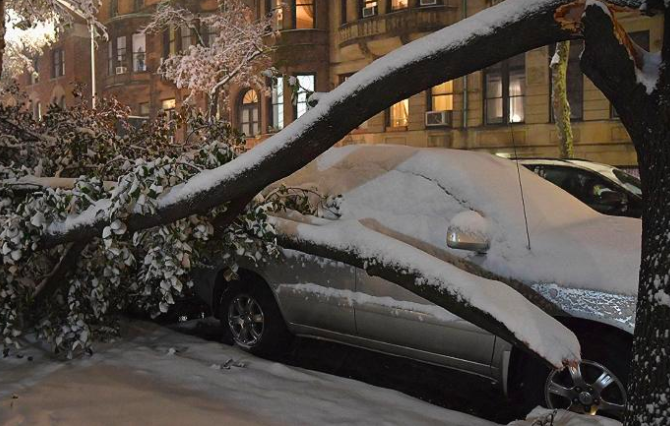 A mix of rain, snow and ice that initially hit the Midwest caused headaches from the South to the Northeast, leaving up to a foot of snow in some parts of the latter and widespread freezing rain and ice accumulations elsewhere. Conditions prompted school closures, hours-long delays for commuters and hundreds of flight cancellations.
Track the storm here
About 200,000 customers in four states were without power at 6 p.m. ET Friday, according to Poweroutage.us, in part due to freezing rain.
The snow in the Northeast was expected to end Saturday morning, though gusty winds and coastal flooding will continue, the National Weather Service said. Another cold front will drop additional snowfall from the Great Lakes to the New England interior through Sunday.
Weather-related deaths
The wintry weather contributed to traffic crashes that killed people in several states, authorities said.
A 60-year-old woman died Thursday in Miami County, Indiana, after she lost control of her vehicle and crashed in slick road conditions, the state's police said.
One person was also killed Thursday in Canton, Ohio, and another in Maryland, police said.
In Mississippi, a tour bus crashed Wednesday, killing two people and wounding several others. The bus, carrying 46 people, was traveling from Huntsville, Alabama, to Tunica, Mississippi, Sgt. Joseph Miller of the Mississippi Highway Patrol said.
The other occupants were taken to area hospitals with various injuries, Miller said. The cause of the crash was weather-related.
Arkansas Highway Patrol reported two separate incidents in which three people were killed after drivers lost control of cars on icy roads.
Traffic nightmare, airport delays in New York area
For hours Thursday, crashes left drivers stuck on the George Washington Bridge, which connects Upper Manhattan and northern New Jersey.
New Jersey State Police responded to 555 motor vehicle crashes and helped 1,027 motorists, the agency said.
"If you don't have to go out, please stay home so road crews can treat the roads," police said. "If you have to go out, please drive slowly and allow for more time to get where you are going."
"Bring more staff to help. There are many seniors & kids," Trivedi posted on Twitter, along with pictures of the lines.
US flight delays (5,597) and cancellations (717) were fewer by Friday evening, according to FlightAware.com.
The weather forced long waits Thursday night at Manhattan's Port Authority Bus Terminal. The terminal, near Times Square, was packed with commuters waiting for buses that struggled to access the site.
"We got behind the storm. I realize that," she said.
Students forced to wait in schools
In Elizabethtown, Pennsylvania, some school buses couldn't get students all the way home Thursday because of road closures and "unsafe travel conditions."
Drivers were forced to take them back to schools in the Elizabeth Area School District, where they were kept in a "shelter-like environment" until parents could pick them up.
The schools operated on a two-hour delay Friday, the district said.