An Alabama tour bus bound for a Mississippi casino overturned Wednesday on an icy highway, leaving two people dead and 44 others aboard with injuries, authorities said, as a pre-winter storm blasted parts of the South and lower Midwest.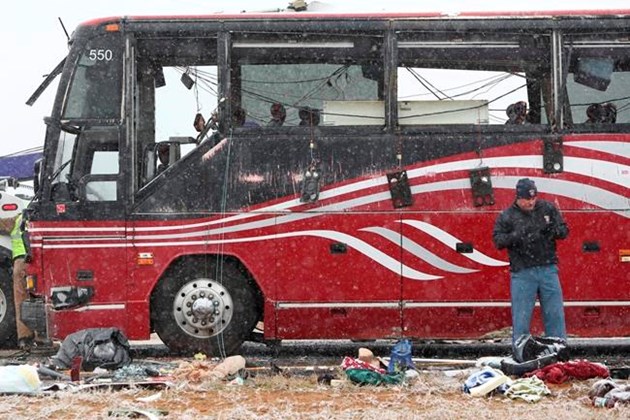 The National Weather Service says snow and ice fell during the day across parts of Mississippi, Arkansas, Tennessee, Missouri, Kentucky, Indiana and Illinois. Snow and ice are predicted Thursday and Friday for areas ranging from Ohio and the Appalachian Mountains through Washington, D.C., New York and New England from the storm barreling toward the Northeast.
Witnesses told Mississippi investigators that the bus driver lost control after crossing an icy overpass and the bus rolled over on its driver's side, coming to rest in median of Interstate 269 in Byhalia around 12:35 p.m., said Mississippi Highway Patrol spokesman Capt. Johnny Poulos. That Mississippi town is about 35 miles (55 kilometers) southeast of downtown Memphis, Tennessee.
The red tour bus with white and gray stripes was later towed from the crash site, its windows mostly missing and a smell of gasoline lingering in the air. Large scratches and other damage were visible on the driver's side.
Poulos said investigators hadn't yet concluded how fast the bus was traveling. He said because the road was icy, investigators have no skid marks to evaluate as part of their investigation.
The company has only three buses and three drivers, according to licensing information from the Federal Motor Carrier Safety Administration. The agency gives Teague a satisfactory rating and lists no crashes in the last two years.
There was no indication Wednesday's crash was related to the violations.
Federal Motor Carrier Safety Administration spokesman Willam DeBruyne declined to comment on Teague VIP's safety record. He said a bus is only ordered out of service because of an "imminent hazard."
"It's so egregious that the vehicle cannot be allowed to operate," he said.
The coroner declined to describe the causes of the deaths and no autopsies were planned.
In Washington, National Transportation Safety Board spokesman Keith Holloway said the federal agency hasn't determined yet whether it will investigate Wednesday's crash.
The unmanned Cygnus cargo craft is now to lift off early Friday from Wallops Island on the Eastern Shore carrying with supplies and research materials for the astronauts aloft.