President Donald Trump is growing increasingly irritated with lawyer Rudy Giuliani's frequently off-message media blitz, in which he has muddied the waters on hush money paid to porn actress Stormy Daniels and made claims that could complicate the president's standing in the special counsel's Russia probe.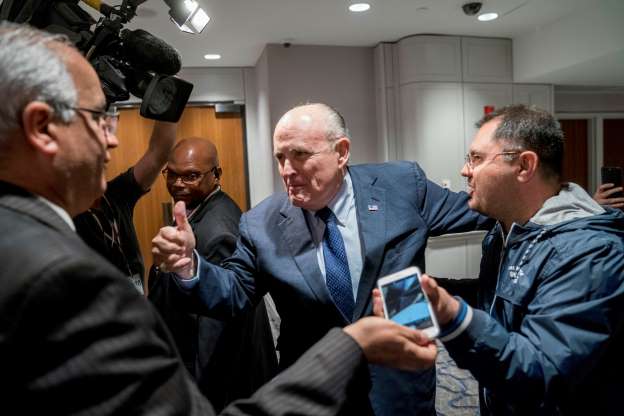 Trump also expressed annoyance that Giuliani's theatrics have breathed new life into the Daniels story and extended its lifespan. It's a concern shared by Trump allies who think Giuliani is only generating more legal and political trouble for the White House.
After Trump chided Giuliani on Friday, saying the lawyer needed to "get his facts straight," the former mayor put out a statement trying to clarify his remarks. But in weekend interviews, Giuliani appeared to dig himself a deeper hole by acknowledging that "Cohen takes care of situations like this, then gets paid for them sometimes." He did not rule out the possibility that Cohen had paid off other women.
To which Giuliani responded, "Funneled it through the law firm, and the president repaid him."
But many Trump allies both inside and outside the White House have grown anxious in recent days about Giuliani's whirlwind and unpredictable interviews.
Trump, according to one confidant, celebrated Giuliani's hiring last month by declaring that he had enlisted "America's F—ing Mayor" as a legal attack dog with star power. But many in the White House have begun evoking comparisons with Anthony Scaramucci — who, like Giuliani, was a hard-charging New Yorker with a knack for getting TV airtime.
The episode revived worries in Trump's inner circle about Giuliani, who enjoys the media limelight and has a tendency to go off-script. His behavior grew more unpredictable during the stretch run of the 2016 presidential campaign, when Trump chided him for falling asleep on the campaign plane, according to two former campaign officials.
Giuliani also alienated a number of people in Trump's inner circle by insisting that the only Cabinet position he would consider would be secretary of state. He did not get the post.