US President Donald Trump has sparked a backlash from UK politicians by attacking the National Health Service.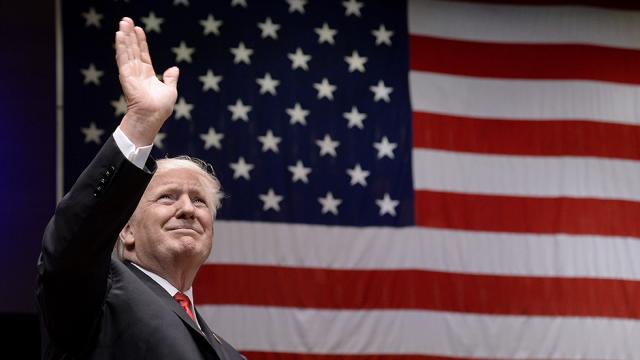 In a tweet criticising US Democrats pushing for a universal health system, he said "thousands of people are marching" in the UK because the NHS is "going broke and not working".
This was believed to be a reference to a Save the NHS march on Downing Street on Saturday, demanding more funding.
Downing Street said Theresa May was "proud" of the UK's system.
Her spokesman said the NHS had recently been ranked as the world's best healthcare system and that Health Secretary Jeremy Hunt, who has hit back at the US president on Twitter, "speaks for the government".
Organisers of the demonstration said it had been aimed at showing people's "love" for the NHS.
The chief executive of NHS England said the US president had "got the wrong end of the stick".
In the US, when people get treatment they have to pay, most often through health insurance providers.
President Trump's tweet came after ex-UKIP leader Nigel Farage appeared on Fox And Friends, one of the president's favourite shows, talking about the weekend march.
"Dems want to greatly raise taxes for really bad and non-personal medical care," Mr Trump tweeted.
Such was the case on Monday, as the president tweeted about the National Health Service shortly after former UKIP leader Nigel Farage appeared on Fox to criticise the NHS during a segment on a recent London protest march.
Healthcare reform, while a major topic of partisan debate in the US last year, has fallen off the radar recently.
Republicans tried, and failed, to roll back government regulation of the insurance industry instituted by Barack Obama.
In last week's State of the Union address, Mr Trump barely mentioned the topic.
When Fox News catches the president's attention, however, that can change with the flick of a Twitter finger.
In a joint response to the US president, they said people had marched "to show their love for the principles of universal and comprehensive care free at the point of use, paid for through general taxation".
"President Trump has been tweeting about the National Health Service today, and unfortunately, respectfully, we suggest that tweet got the wrong end of the stick," he said.
"And, in fact, people in this country don't want to ditch our NHS, not withstanding what we've said today, they want to keep it and strengthen it," he said.
Mr Stevens invited the president to visit UK hospitals when he comes to the UK, "and go away understanding that healthcare for everybody delivered at half the cost of the US healthcare system is something that people in this country are deeply and rightly committed to".