Cruiser bikes are beloved by the people who ride them. They embody the spirit of the open road perhaps more than any other type of bike. Enjoying that lifestyle is easier with the right parts and accessories just like how the best motocross mods and gear can add to off-roading. Below are some suggestions on finding cruiser riding gear for women.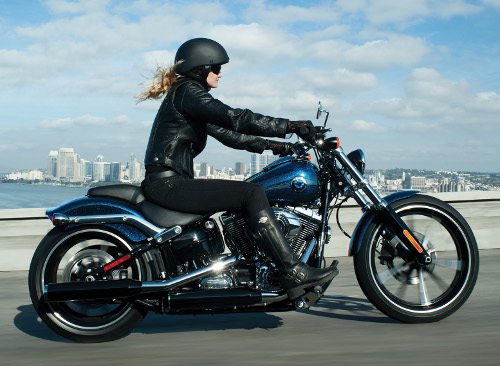 Helmets
Your helmet is perhaps the most important part of your gear. It protects your head in the event of a crash and helps you to maintain visibility in weather and at highway speeds. A full-face helmet is ideal, even for cruisers, because it offers substantially more protection. A Shoei RF-1200 Recounter Helmet is a great, premium choice in this category.
Of course, a lot of cruiser riders prefer open-face helmets for their comfort and freedom. They don't offer as much protection, but they suit the cruiser style. For a fun-looking open helmet, consider a Z1E Nomad Hellfire Half Motorcycle Helmet. For something a little more understated, consider a Z1R Jimmy Open Face Helmet. Make sure to grab some goggles for weather and dusty roads.
Jackets
Falling from your bike without a proper jacket could get ugly quickly. Of course, a lot of people want to forego them in the summer. Fortunately, the best women's cruising gear features vents and other features to help keep you cool even in the sun.
For a classic, leather look, consider the Black Brand Women's Vintage Rebel Jacket. It is made from 100% leather and has a really traditional biker aesthetic. It is also made with women in mind, so you can be confident it will fit snuggly and comfortably. There is nothing worse than taking a long trip on your cruiser with an awkwardly fitting jacket.
If you prefer to skip the leather or just want a more modern style, consider the Olympia Moto Sports Women's Switchback2 Mesh Tech Jacket. This jacket has all the waterproofing, wind-proofing and modern features you could ask for. It is very versatile and easy to take cruising in any weather.
Boots
Riding your cruiser, you need your feet to be stable and comfortable so you can maintain control. When you come to a stop, you need to be able to support yourself and your bike even on slippery pavement. Additionally, your footwear can play a big role in keeping your feet safe in a crash. In short, get some proper biking boots.
The best boots should be rugged with stable soles and treads. Additionally, they should lace up above the ankle for maximum security. Check out the TCX Women's Lady Smoke Motorcycle Boots as a possible option. Whatever style you choose, make sure they are a sturdy fit.
Gear Up For Your Ride
Getting the right gear for your cruiser can make riding it all the more enjoyable. Of course, finding great deals on accessories, OEM ATV parts and aftermarket motorcycle parts can be rewarding too. Take a lookonline and find some great deals on the protective clothing, helmets and other gear you need to get the most from your motorcycling hobby.