The Google laptops are known for affordable prices (a Chromebook can be had for $169) but also a limited selection of apps, thanks to their inability to run Windows or Mac OS programs. But starting in June, Chromebooks will be able to access more than a million Android apps in the Play Store.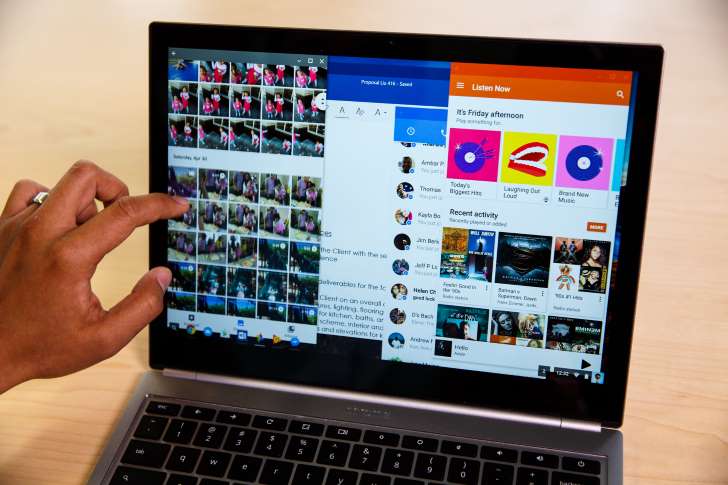 Following an earlier 2014 attempt that brought a handful of Android apps to Chrome, the new move brings a wealth of new capabilities to the Chromebook, which has grown in popularity as consumers gravitate towards simpler, low-priced machines. The incorporation of Android apps, one of the biggest library of programs available, shores up the Chromebook's biggest weakness.
Many Chromebooks will soon be to play a wide variety of 3D games, use Facebook Messenger's "chat heads" to alert them to incoming messages using little bubbles that float above a user's home screen and use the Android version of Microsoft Office. They'll run in both full-screen and windowed modes, so you can arrange a desktop full of windowed apps for easy multitasking.
Unlike Chrome's web apps, many Android applications also won't need a constant Internet connection to be useful. Google's own Photos and Play Music apps will work offline, allowing you to sift through your photo albums and listen to your cached tunes on Chromebook even during a long plane flight.
The only Android apps and features that won't work are those that specifically require sensors (such as GPS) that a Chromebook doesn't include, according to Kan Liu, Director of Product Management for Chrome OS. They won't show up in app listings.
"We will fully support all Android apps, subject to the hardware requirements these apps have," said Liu.
And while the Play Store will initially only roll out to Chromebooks with a touchscreen — starting with the Chromebook Pixel 2, Asus Chromebook Flip and Acer Chromebook R11 — Liu said Google is working to make sure Chromebooks without touchscreens can control Android apps as well.
Not every Chromebook will be able to take advantage of the new apps. By the end of 2016, roughly half of all Chromebooks released in the past two years should have access to the Google Play Store, Liu said.
If your Chromebook is older, though, you might be out of luck: "Older platforms will not deliver a good enough experience to meet the minimum performance and compatibility standards we have for our users," he said.
For seven years, Google has been teasing that Chrome OS and Android would eventually merge. This announcement brings the two operating systems closer than ever before.