Chevrolet announced pricing for the 2019 Silverado 1500, with the base Work Truck starting at $29,795 and the most popular LT Crew Cab asking $40,795, both prices including destination.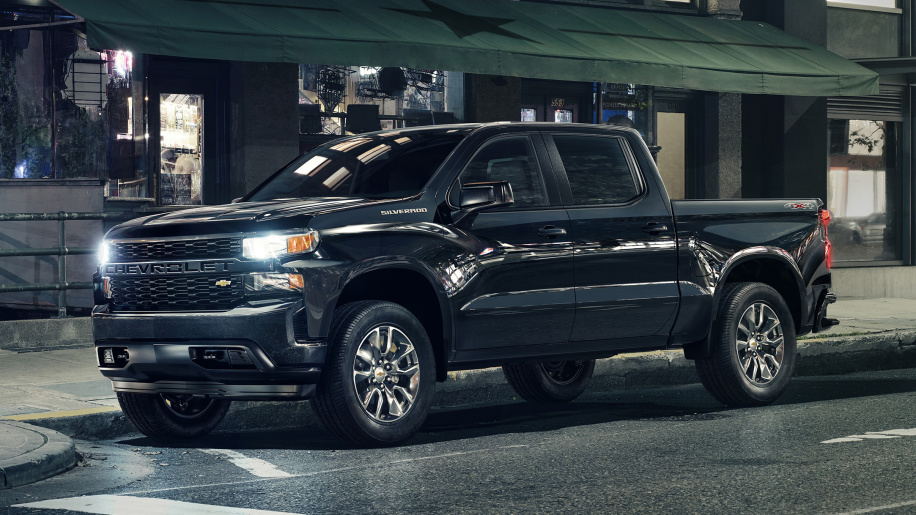 The starting price of the 2019 Silverado 1500 is the same as its 2018 predecessor, in spite of the new truck's standard longbed bodystyle. Getting a longbed on a base 2018 Silverado would cost its owner $30,195, $400 more than the 2019 pickup.
Research the Chevrolet Silveardo 1500 on MSN Autos
The 2019 Silverado 1500 Work Truck comes standard with a mostly carryover 4.3L V-6 producing 285 hp and 305 lb-ft, matched to a six-speed automatic transmission. Active Fuel Management comes on the V-6, a trait shared with the Work Truck's optional 5.3L V-8/six-speed auto combination. These powertrains are also available on the Custom ($36,095) and Custom Trail Boss ($40,995).
The sporty Silverado RST, which also comes standard with the 2.7L turbo, starts at $40,295 for the double cab and $42,695 for the crew cab. Both the RST and LT are available with an optional 5.3L V-8 with Dynamic Fuel Management, mated to an eight-speed automatic transmission.
Fuel economy numbers have only been revealed for the 5.3L/eight-speed and 6.2L/10-speed powertrains, with the former achieving 17 city/23 highway/19 combined mpg (matching the Ford F-150's 5.0L V-8 in lock step). The latter hits a respectable 16 city/20 highway/17 combined mpg, which compares favorably to the Ram 1500's Hemi V-8. Both engines improve upon their 2018 counterparts by 1 mpg city.
Payloads are up compared to their 2018 equivalents across the board. The base V-6 can handle a 400-pound-heavier trailer, while the 5.3L V-8 dispatches one weighing 11,600 pounds (up 400). Finally, the top-dog 6.2L V-8 can lug a 12,200-pound trailer, up 500 from 2018. And payloads for crew cab models are up 340 pounds, though Chevrolet doesn't break out specific numbers model by model—the maximum payload a 2019 Silverado can handle is 2,500 pounds, achieved by the base V-6. These capability factors still can't quite match those of the F-150, which hits a maximum towing rating of 13,200 pounds and a maximum payload of 3,270 pounds. But the Chevrolet Silverado 1500 is still class-competitive.
Hitting showrooms later this year, Chevrolet's 2019 Silverado 1500 looks like it's loaded for bear, offering a wide variety of powertrains, aggressive pricing strategies, and a heart-of-the-market approach.