After adding a US-built, 2.0-liter, turbocharged four-cylinder to the European and Chinese-market Q50, Infiniti will finally add this engine to the US-spec car.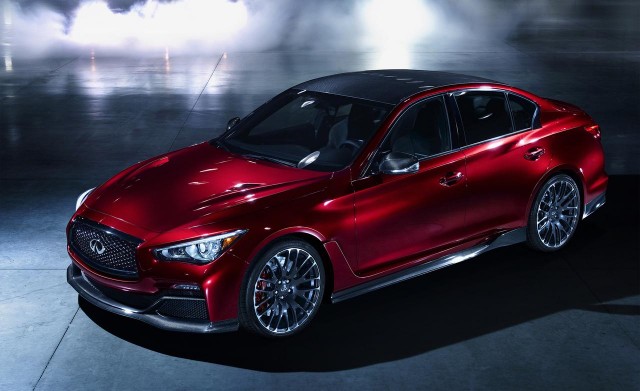 Official details are exceedingly scarce, with the company only saying the 2.0-liter will hit dealers this winter and that additional info will be made available this fall. We can, however, make a few safe assumptions based on the engine's output in Europe. According to our previous story on the Decherd, TN-built engine, the turbocharged mill will offer up 211 horsepower and 236 pound-feet of torque.
That plants it squarely between the outputs of the 2.0-liter turbo in the BMW 320i and 328i, though it's down on power compared to the engines offered in the Cadillac ATS, Mercedes-Benz C-Class, and upcoming Lexus IS 200t. There's also a 100-plus-horsepower gap between the Q50′s two gas-only engines.
Considering all of these things, not to mention Infiniti's reluctance to reveal official specs, it seems safe to wager that the Japanese brand will find a way to squeeze more power out of the current 2.0-liter turbo. That'd allow the Q50 to better challenge the competition's entry-level offerings while bringing the starting price point down from the roughly $38,000 it sits at now. That's grain-of-salt conjecture on our part, though, so caveat emptor.
Expect to hear more on the Q50′s new engine later this year. Until then, scroll down for the official press release cover all of Infiniti's 2016 updates.