Earlier this week, Mercedes teased the upcoming redesigned A-Class by showing off the entire cabin. Infiniti's latest teaser, on the other hand, shows us a whole lot less. You can sort of get an idea of how the grille will look, that the headlights will be thin slivers, and that there is some kind of vent in the hood, but beyond that, it's anyone's guess what we're looking at here.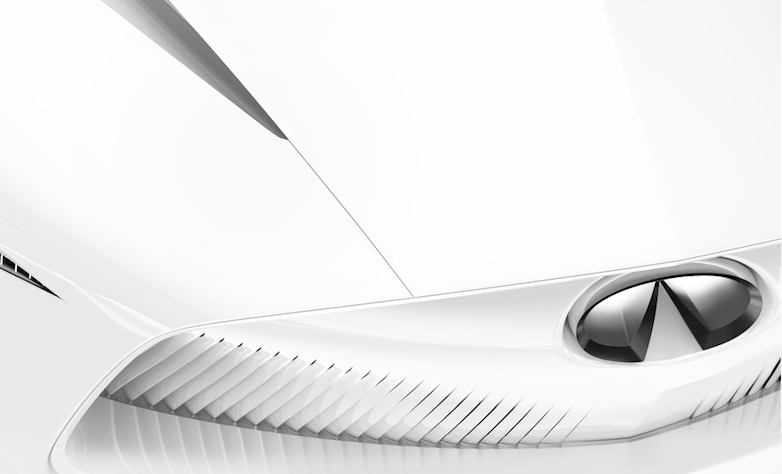 Infiniti says this concept car "previews a new generation of Infiniti vehicles and represents the first manifestation of Infiniti's new form language," which means it could end up being a design prototype that future cars will be inspired by. It'll also be shown alongside the Infiniti Project 9, a concept that was ridiculously cool but will never see production. Since the Project 9 is electric, perhaps this car previews Infiniti's first electric production car. After all, in a statement, Infiniti's head of global design Alfonso Albaisa does call it a "seamless and stunning new design philosophy demonstrating Infiniti artistry in the new age of autonomy and breakthrough drivetrains."
One thing we do know is that it's some kind of sedan. In the same statement, Karim Habib, Infiniti's executive design director, says the concept "will take the traditional sedan architecture to its next stage of evolution." Habib also said that thanks to a "shift toward smarter, more compact and less intrusive powertrains," the designers "were able to create an alternative form with flowing gestures, more engaging in character and more enriching in experience."
Both quotations are full of flowery language and business jargon that could mean anything, but it sure sounds like they're suggesting an electric powertrain. We also wouldn't be surprised if this concept also previews the next Q70. Infiniti turned its M series into the Q70 back in 2013, meaning it's been in production since the 2011 model year. When we last tested the Q70, we thought it was better than the outgoing M series, but found it came up short compared to the competition. Three years later, it needs a redesign even more than it did back then.