New trends are starting all the time, but there's one trend that really seems to be taking the world by storm lately – leather trousers! Celebrities are rocking this look everywhere, and making us normal folk long to do the same. I usually go for something comfy while travelling, boyfriend jeans for instance, but this leather trouser trend got me wanting to make like the stunning Miranda Kerr and throw on a pair of those tight leather beauties. These celebrities love rocking the leather trouser trend: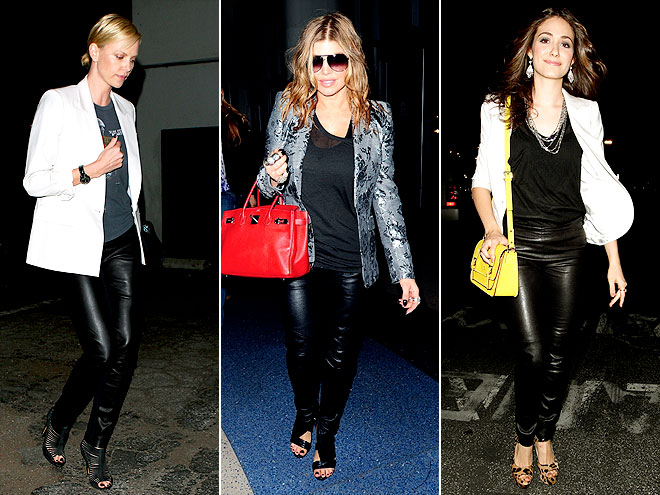 Miranda Kerr
As mentioned before, Miranda Kerr is loving the leather trews. She chose to rock hers with a pair of pink converse style pumps and a denim shirt for off duty cool!
Rita Ora
Miss Ora dressed her leather trousers up a little bit more and decided to go for a pair of Louboutin stilettos and an embellished jacket covered in studs. She looked a little bit like a female knight of the round table, but I won't judge.
Caroline Flack
Caroline Flack teamed her tight leather trousers with a football inspired t-shirt, a black tuxedo jacket, and a zebra print bag. Perfect for a girls night on the town!
Emma Roberts
Emma opted for a fox print jumper, but teamed it with the leather trousers in order to stop it looking too 'girly' or 'cute'. Good job girl!
Nicole Scherzinger
Miss Scherzinger looked amazing, and although this look was her 'off duty cool', she nailed it. She wore a grey pair of baggy leather trousers, a white vest, and zip up mesh jacket – a very cool look. She gets lots of style points from me!
Kate Moss
Of course Kate Moss had to get in on the act. She wore a biker leather trousers with a tailored blazer and a ton of jewellery for a gothic-look that really works – even if I can see Russell Brand in the same outfit!
Charlize Theron
Charlize uses her leather trousers to create a very cool street look that can be worn out for a meal, drinks, or even just shopping! She teamed her tight black trousers with black and white nikes, a plain grey T-shirt, and a black blazer. On top of that she carried an oversized black bag and a few bangles! The only other thing that could have possibly completed this outfit would have been a cool leather watch from Shinola.com.
Mollie King
Mollie looked amazing in her leather trousers, teaming them with black heels, a striped black and white T-shirt, and pillarbox red jacket.
Kendall Jenner
Kendall Jenner must have taken some style advice from her sisters – she looked amazing in her leather trousers! Pairing them with a grey vest top that had an almost spiritual feel to it, as well as a pair of studded black heels made her look effortlessly chic.
If this post has taught you anything, it's that you need to go out and buy a pair of leather trousers NOW! They're so versatile, you'd be silly not to.