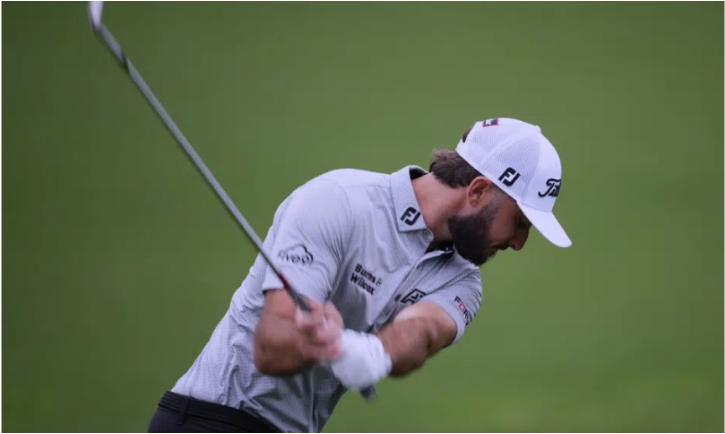 Max Homa, the fifth-ranked golfer in the world, is gearing up to compete for the coveted green jacket at the upcoming Masters tournament in Augusta. Homa has been making waves in the golf world, having won five times since he clinched the Wells Fargo Championship in 2019, including another Wells Fargo title last year and a victory at the Farmers Insurance Open in January. However, despite his impressive track record, Homa admits that he has struggled in majors and has missed eight cuts in 13 starts, with his best finish being a tie for 13th at last year's PGA Championship.
"Confidence is awesome when you have it; when you don't, it feels like it's impossible to get back," said Homa, acknowledging the mental challenges he has faced in his journey as a professional golfer. Homa's road to success has been a rollercoaster ride, as he only needed one year to graduate from the Web.com Tour to the PGA Tour, but then lost his card and headed right back. He qualified again for the PGA Tour, but missed 15 of 17 cuts to lose his card again in a spectacular fashion.
Despite his setbacks, Homa's hard work and perseverance paid off in May 2019 when he won the Wells Fargo Championship, earning a whopping $1.42 million. Homa's Twitter account also exploded in popularity, growing from about 30,000 followers to a staggering 560,000 followers today. Homa's account gained even more steam after the Presidents Cup, when a Twitter user asked Homa to critique a video of his swing. Homa light-heartedly roasted it, and one critique became two, and became a flood of them.
Homa's quick wit on social media has earned him a reputation as one of the funniest golfers on Twitter. He often shares humorous posts, such as when he tweeted a picture of his shirtless torso after a workout, saying, "I did not get this tan from being indoors." He also regularly interacts with his followers, offering tips and advice on golf and life in general.
Despite his ups and downs, Homa remains optimistic and determined to make his mark in the majors, particularly at the Masters tournament. He has been putting in the hard work and dedication needed to achieve his goals, and hopes to bring his A-game to Augusta. With his impressive golfing skills and quick wit on social media, Homa is definitely a golfer to watch out for.
As he prepares for the Masters, Homa is focused on improving his mental game. He has been working with a sports psychologist to help him overcome his struggles in majors. "I'm trying to change the way I look at them," Homa said. "Instead of looking at them as a burden or a pressure situation, I'm trying to look at them as an opportunity."
Homa has also been working on his swing, trying to make it more consistent. He has been practicing with a new driver and experimenting with different clubs to find the best fit for his game.
The Masters tournament is set to begin on April 7, and Homa is ready to compete for the green jacket. He knows that he will be facing tough competition from some of the best golfers in the world, but he is confident in his abilities. "I'm excited to get there and see how I stack up," Homa said. "I feel like I'm playing some good golf right now, so I'm looking forward to it."