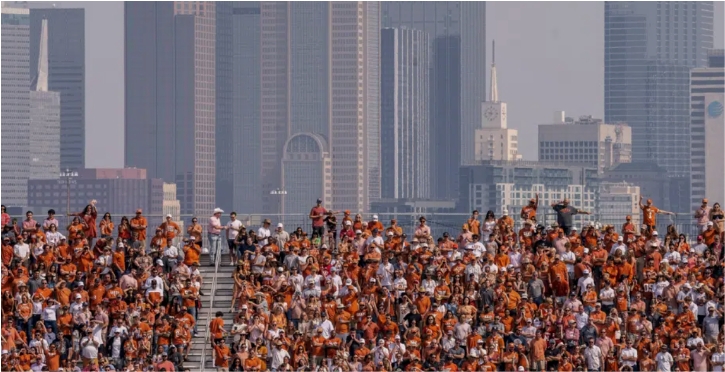 Metropolitan areas in Texas and Florida experienced a surge in population growth, while the decline in New York and Los Angeles slowed down, according to recent estimates from the U.S. Census Bureau. The initial trend of people leaving urban areas during the first year of the pandemic seems to have reversed or slowed down in the second year. In 2021, fear of the virus prompted residents to flee densely-populated urban areas, leading to a decrease in population in over half of the 20 largest U.S. metro areas. The popularity of remote work also allowed people to choose to live farther away from their workplaces.
However, in 2022, only eight of the 20 largest metro areas experienced a population decrease, and the overall growth rate for all U.S. metros was 0.4%. Major metropolitan areas such as Washington, Miami-Fort Lauderdale, Seattle, Minneapolis, and San Diego managed to gain population in 2022 after experiencing losses in 2021, according to the Census Bureau's 2022 population estimates.
The Dallas-Fort Worth area stood out as the fastest-growing metro in the United States for the second consecutive year, welcoming an additional 170,000 residents in 2022. With a population of 7.9 million, Metro Dallas-Fort Worth became the fourth-largest metropolitan area in the nation, trailing behind New York, Los Angeles, and Chicago. It's worth noting that the population losses in the latter three cities were much smaller compared to the first year of the pandemic.
Other metropolitan areas that witnessed significant population growth in 2022 include Houston, Atlanta, Phoenix, and Orlando, Florida. Phoenix crossed the 5 million-person threshold for the first time. On the other hand, Boise, Idaho, and Provo, Utah, which had been popular destinations for residents leaving West Coast cities in 2021, dropped out of the top 20 in population growth in 2022.
The data also shed light on the growth of micropolitan statistical areas, which are smaller communities with central cities ranging from 10,000 to 50,000 residents. These areas experienced a growth rate of 0.1% in 2022, compared to 0.2% in 2021.
While the reasons behind these population changes were not explicitly provided in the data release, previous data at the county level suggested that international migration played a significant role.
Within the Dallas-Fort Worth metro area, cities such as Fort Worth, Phoenix, and San Antonio witnessed substantial population growth. The Villages, a retirement community in Florida, emerged as the fastest-growing U.S. metro area between 2021 and 2022, with a remarkable 7.5% increase in population during that period.