Hallelujah diets. Body by God. Karate for Christ. Gospel groove workouts.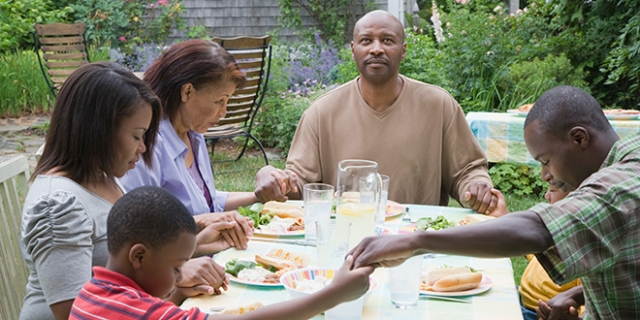 Using the Lord's name (not in vain), fitness and diet enthusiasts are injecting the Almighty into nutrition programs, exercise DVDs, martial arts and healthy living courses.
In a DVD released in June, a gospel choir in full-length gowns sways back and forth while a fitness personality, Donna Richardson Joyner, sashays to her aerobic exercises. Her smiling, spandex-clad entourage echoes her movements. All lift their hands to praise the Lord.
"Give him some love!" she shouts. "Honor him!"
Exercise DVDs with religious themes, such as this one, have streamed into the market. More churches have opened fitness centers and started healthy living groups.
"People are wanting more out of what they're currently getting," said Brad Bloom, publisher of the Faith & Fitness magazine. "They're tired of going to a church, to a routine show on Sunday morning. Then they're also frustrated with the gym experience. People need something where they can get a comprehensive experience from it."
This search for meaning has intertwined faith and health. Since the inception of the YMCA (originally founded as the Young Men's Christian Association), support meetings at church basements and dieting books and programs with a hint of Jesus, such as "What Would Jesus Eat?" and the Weigh Down, faith-based fitness has had its followers.
Earlier this year, Oprah Winfrey gave a glowing endorsement of a book, "Women, Food and God," which the talk show host described as "profound."
In the new Body Gospel workouts, Joyner infuses stretches, leg lifts and squats with upbeat gospel music. Her DVDs were backed by Beachbody, a mainstream company that also released exercise DVDs such as P90X, Brazil Butt Lift and Hip Hop Abs.
Adding God into the mix "requires not only to believe it, but the willpower to change," Joyner said. "It's a different type of willpower."
"This is saying to your faith, 'I'm doing this because my body is the temple of the Holy Spirit,' " she said. "This is not about losing weight to look good — it's more purposeful than that."
Before the workout, her group forms a prayer circle and then launches into abdominal work, thigh presses and cha-cha-cha's to gospel as a digital cross spirals in the background.
Despite the enthusiasm, there are some reservations.
"There's a part of me that cringes a little bit when I sense that there's this idea or concept that all you need to do for [a] weight loss program is [have] a little prayer or Bible study and all becomes easier," said Peter Walters, an associate professor in the applied health science department at Wheaton College in Illinois.
But faith-based programs tend to address the entire person, rather than isolating nutrition and exercise, he said.
"The first step is to say that I'm powerless over this and I need a higher power to help me," he said. "It's a challenge to get that balance right — you're honest with yourself about whatever issue you're having to face."
It's a familiar experience for Jill Remley, who lives near Columbus, Ohio. Overweight all of her life, she had blamed her genetics and her obese family.
She tried Weight Watchers, Richard Simmons programs, Jenny Craig and the diabetic's diet. She popped diet pills ordered from ads in the back of magazines, glugged Slim Fast shakes and even starved herself.
"Any kind of diet, I was doing it," she recalled. "It didn't fix my problem. I was in love with food."
After a lifetime of struggling, she had her come-to-Jesus moment when Remley joined a weight-loss support group at her church.
"All the other diets were talking about stuff to change — cutting calories, not eating fat or carbs," Remley, 37, said. "This was the first thing that made me look at my heart. I was the change. I looked at my own heart. I was running to food instead of God — none of that can fill you up when you're hurting."
That divine realization helped her lose 150 pounds, she said. Remley has kept it off for eight years.
"With food, you never get full. You never find that fulfillment," Remley said. "Once I learned to go to God, I didn't run to food. I ran to my Bible. I prayed. I didn't run to the pantry or refrigerator."
The religious motivation for exercising packs an extra punch.
"There's a spiritual injunction," said Walters, co-author of the book "Christian Paths to Health and Wellness."
"We live in a way to give our lives for other people. I need to live in a way where I'm healthy so I have resources to do like the master. Here is my back, if you need help moving. Here [are] my hands if you need holding. It's about equipping yourself so you can be a resource to other people."
Religious-themed diet and fitness programs do not guarantee success.
Paul Eugene, a fitness instructor who appears on local access channels in Pittsburgh, Pennsylvania, leads Gospel Dance Aerobics.
"I don't want people to get the idea that if I work out to gospel music, God will do something supernatural for me," he said. "There's no truth to it. If that was true, church would be full of lean people — it's not."
Eugene's gospel aerobics, which can be seen on YouTube, are meant to inspire but do not promise miracles, he said.
Whether a religious program works better than a secular program depends on the person, said Pete McCall, an exercise physiologist with the American Council on Exercise.
"Anything that gets anyone into an exercise program is a positive thing — whether it's doing it for religion or purely for aesthetic looks," he said.
The faith-based fitness movement reaches a demographic that might have otherwise avoided the gym.
"When you look at something religion-based, you're getting a community together who have people with common beliefs and principles, it might be easier to be adhere to that," he said.