Just like that, summer is here once again. If you want to make your summer that much more spectacular, spend your hot summer days cooling down with a slushy. Remember when you had to go to the gas station for that tasty treat?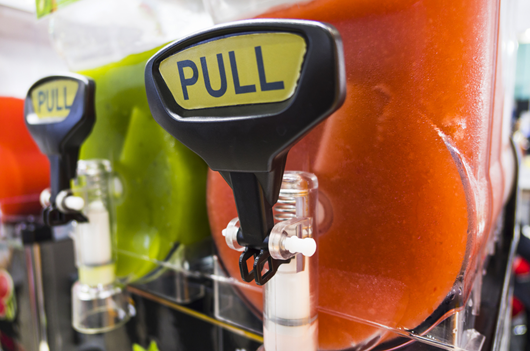 Slushy machines are now made for residential use, and they make amazing treats in the height of summer and all year-round. If you are looking for the best slush machine, the good news is that you have many to choose from. These are the top ten best machines to make your taste buds come alive and cool down the rising summer heat.
Slush machines can vary greatly by features and price. Depending on how smooth and thick you like your slushies and how much you want to spend, there are a variety of styles available.
The Ninja Master Prep
Not just designed for slushes, the Ninja Master Prep is an awesome machine that can do it all. The quad technology of this one-of-a-kind food processing machine cuts and crushes ice with a technique that parallels the commercial equivalents. The no-slip bottom and generous two-cup size means you can make enough for you and a friend. It dices, purees, and blends so you can create any type of slushy you want.
Margaritaville Tahiti Frozen Concoction Maker
For someone looking for something a little higher tech, this machine has a generous three-blending capacity, which means that you can create 72 ounces of awesomeness all at once. There are six different types of drinks you can make from a smoothie to a slushy, and it has a convenient rotating ice supply, along with a cool and festive look to boot.
Conair Cuisinart ICE-21
This Conair machine uses a "mixing paddle" to create a consistent taste in any slushy. It can also make ice cream and frozen treats in 20 minutes or less. With both, one- and one-half quart capacity, you can make enough for the whole crowd. Since the machine is able to take on any ingredients, you can try all sorts of slushy recipes.
Nostalgia Retro Series Slush Drink Maker
A frozen drink machine with a retro design, it not only delivers excellent frozen treats, but it also turns any kitchen into an old-fashioned parlor. Although it was created for residential use, it has the capacity to work in any commercial environment.
Margaritaville Key West Frozen Concoction Maker
The Margaritaville Key West is an excellent machine with a nice price tag. Making up to 32 ounces at a time, it has an excellent portion size. An easy machine to clean, it also has the option to manually or auto-shave and blend ice. It is fantastic for smoothies, too.
Margaritaville Bahamas Frozen Concoction Maker
The perfect machine to make frozen drinks for entertaining, the ice shaving blade on the Bahama is exposed and just looks cool. The machine can mix up to 36 ounces at once, and it comes with a measurement guide to help you get super creative. It's machine-washable, so when the party is over, the clean-up is easy.
Nostalgia Limited Edition Coca-Cola Quick Slush Drink Maker
What is better than a Coke slushy? Nothing! This nostalgic model reminds you of all the things that you love about summer. A bright-red color, it makes the perfect concoctions to cool you down. It's a throwback — the easy-pour spout and crushed ice made with table salt make everything taste the way it did in the past.
Margaritaville Fiji Frozen Concoction Maker
The perfect frozen drink maker for any party or get-together, this machine does it all from margaritas to slushes. Four drink cycles are pre-programmed so that the machine does all the work. The blend cycle and auto-shave options make mixing frozen treats, a no-brainer.
Margaritaville Mixed Drink Maker
Don't be fooled by the name — this model makes all types of frozen drinks. It comes equipped with 48 recipe options and allows you to mix and blend several different drinks at once. The four- chamber accessory lets you feel like you just stepped into a tiki bar instead of your kitchen.
A slushy can make summertime feel magical. If you want to make them at home, choose these professional-style slush machines, get a little creative, and drink your summer away.