Want to make your home look more modern, or considering selling in the future? Whatever the reasons, here are a handful of ways you can achieve your aim.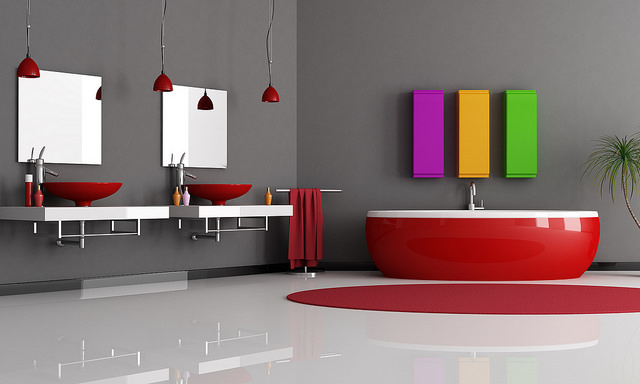 Your Kitchen Appliances
They're known as 'white goods' for a reason! When first developed, things like your fridge, freezer, washing machine and dishwasher were all white. Nowadays, you can get them in far more sophisticated colours. Steel grey versions look sleek and modern. They also won't need hiding behind cupboards, as is done so traditional. You can have them in pride of place in your kitchen instead! Invest in a smart new fridge/freezer; you could even go for a coloured one like these from Smeg. It will really make your kitchen look more modern. As for the cupboards, get rid of any wooden ones. Replace them with metal ones with a frosted or clear glass panel at the front.
Renovate
Renovations are like face-lifts for the home; they can make it look entirely different. If you're really committed to making your home look more modern, this is the option for you. It might cost more than the price of a tin of paint, but it will be worth it. If you are thinking about key rooms to focus on, think kitchen, living room and bathroom. These are three rooms you likely spend a lot of time in, and guests do too. Look at ways you can extend, or make more of the space. Consider adding more windows, or skylights. This will do a fantastic job of increasing light in the home. When it comes to choosing who will help with your house renovations, consider a company who offer packages. So, for example, will do the entire kitchen and two bathrooms for a set free. This way you know the exact price and will be able to get a more specific completion time.
Interior Design
Maybe your budget is low, but you still want to make changes? This is possible too! Interior design is a wonderful thing and can be done on the cheap! Stores like Ikea are stacked with modern-looking items for affordable prices. Consider quirky lampshades and brightly coloured rugs. Choose scatter cushions in contrasting colours, and invest in a stackable chaise longue or a bean bag. In the bedroom, update the bedding and lamps. In the bathroom, update your shower curtain and install some floating glass shelves. These are all small changes but can make a big different. Charity shops and market stalls are more great places to pick up items at prices everyone can afford.
The Exterior
First impressions count. It's all well and good making the inside of a home super modern, but what about the outside? This is the part that guests will notice first. Get out into your front garden and do some serious weeding! Look at your home with fresh eyes and see what looks old. Then, fix it! For example, if your front gate rusted and creaky, it needs replacing. Also, look at your home security. Modern CCTV devices are likely to be more effective anyway, and they give an impression to passers-by that your home is well looked after.