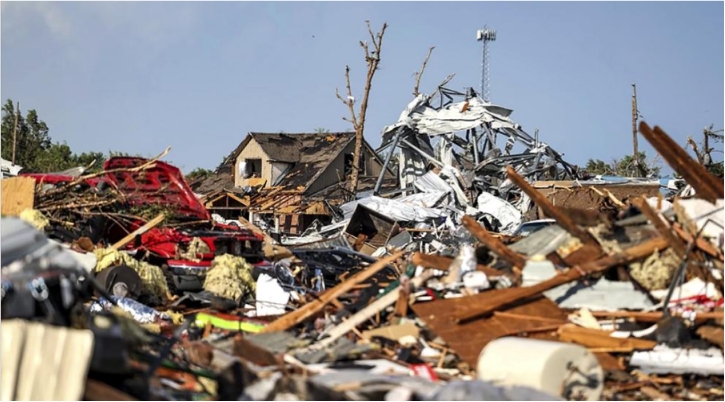 A destructive tornado wreaked havoc in Perryton, a town located in the Texas Panhandle, resulting in three fatalities, numerous injuries, and extensive damage. The National Weather Service officially confirmed the occurrence of the tornado, which struck the area on Thursday evening. Local authorities have reported two missing individuals. Perryton Fire Chief Paul Dutcher revealed that the tornado made a direct hit on a mobile home park, claiming one of the lives and causing substantial damage to approximately 30 trailers. The town, with a population of over 8,000 residents, received assistance from neighboring towns and cities, as well as from Oklahoma.
The tornado left behind a trail of destruction, completely demolishing mobile homes and leaving pickup trucks crushed amidst piles of debris in residential areas. Perryton's downtown area was also severely impacted, with about two blocks of businesses suffering significant damage. As daylight dwindled, efforts were underway to board up broken windows. To ensure the safety of residents, the Ochiltree County Sheriff's Department implemented a curfew due to the presence of downed power lines and other hidden hazards that could pose risks in the darkness.
Storm chaser Brian Emfinger witnessed the tornado's devastating impact on the mobile home park, describing widespread destruction. The twister caused severe damage to the town's industrial area, leaving numerous mobile homes in the adjacent neighborhood completely destroyed.
While specific details regarding the tornado's size and wind speeds were not immediately available, meteorologist Luigi Meccariello reported that approximately 475,000 customers in Texas, Louisiana, Mississippi, and Oklahoma were left without electricity as of Friday morning.
Ochiltree General Hospital in Perryton promptly responded to the crisis, urging the walking wounded to seek medical assistance at the clinic, while directing others to the hospital's emergency room. The hospital treated numerous patients with injuries ranging from minor to major trauma, including head injuries, collapsed lungs, lacerations, and broken bones. The American Red Cross swiftly established a shelter at the Ochiltree County Expo Center to provide support and aid to those affected.
Perryton experienced a widespread power outage, with local radio station KXDJ-FM operating on auxiliary power. Texas Governor Greg Abbott took immediate action, directing the state Division of Emergency Management to offer comprehensive assistance, encompassing traffic control and the restoration of utilities.
As the storm system progressed southeastward across Oklahoma, scattered strong to severe thunderstorms were anticipated in several states, including Texas, Oklahoma, and Louisiana. Heat advisories were also issued, cautioning residents as temperatures neared 100 degrees Fahrenheit (38 degrees Celsius), with heat indexes reaching up to 110 degrees Fahrenheit (43 degrees Celsius).
The storm system's impact extended beyond Texas, affecting northwestern Ohio as well. Hail and potential tornado activity struck Sandusky County, demolishing a barn and toppling trees. In northern Toledo, power lines were brought down, leaving thousands without electricity. The National Weather Service issued severe thunderstorm warnings and identified signs of rotation in various areas.
This severe weather outbreak marked the second consecutive day of powerful storms across the United States. The previous day, strong winds caused extensive damage from Texas to Georgia, resulting in fallen trees, damaged structures, and vehicles being swept off highways.