First Lady of United States of America Mrs. Melania Trump made her first solo public appearance on Saturday morning. She was on visit a with Akie Abe, wife of Prime Minister of Japan.  Mrs. Trump showcased her deep interest in garden tradition while on her visit to Morikami Museum and Japanese garden.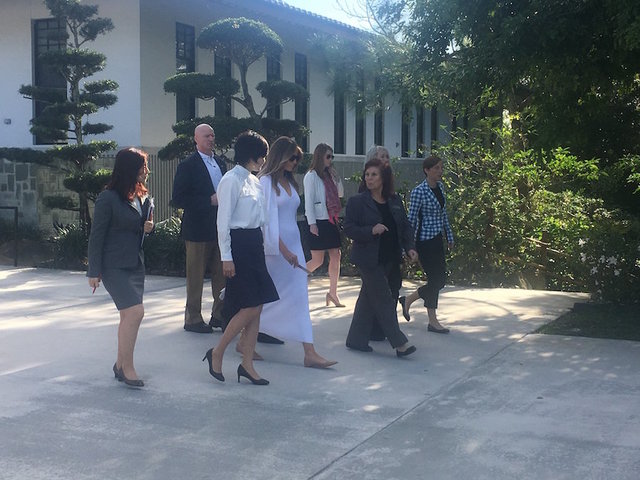 Trump, who wore Calvin Klein to the tour, presented Abe with the gift of a porcelain rose, the "Rose in Bloom," from Ukrainian-born American artist Vladimir Kanevsky. She also hosted Abe for a private lunch later in the day at Mar-a-Lago.
Mrs. Trump expressed keen concern in gardening traditions and reaffirmed her commitment towards preservation and continuation of White House gardening tradition specially 1st lady kitchen garden and Rose garden. She says that there is a connection between nature and a child's mind. Gardens can be used as a place of calm and beauty for all of us.  As reported in CNN, Melania Trump and Akie Abe toured the Delray Beach museum and its six Japanese-inspired gardens, while President Donald Trump and the Japanese prime minister are slated to play golf at Trump's club in Jupiter.
After their visit, Mrs. Trump posted a post-tour picture on her twitter account showing gratitude towards Akie Abe.