Former President Barack Obama said Saturday that November midterm elections would give Americans "a chance to restore some sanity in our politics," taking another swipe at his successor as he raises his profile campaigning for fellow Democrats to regain control of the House.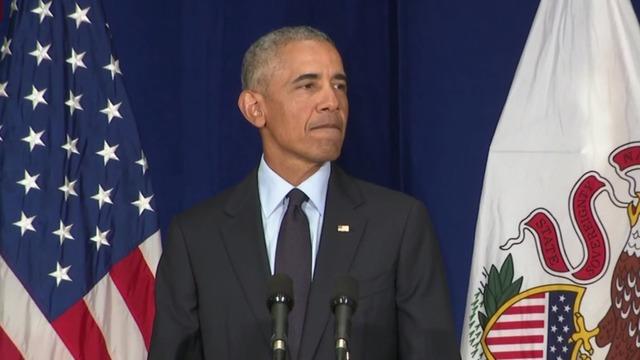 Obama didn't mention President Donald Trump by name during a 20-minute speech in the key Southern California battleground of Orange County but the allusions were clear.
"We're in a challenging moment because, when you look at the arc of American history, there's always been a push and pull between those who want to go forward and those who want to look back, between those who want to divide and those are seeking to bring people together, between those who promote the politics of hope and those who exploit the politics of fear," he said.
His appearance — one day after a strongly worded critique of Trump at University of Illinois at Urbana-Champaign — touched on themes of retirement security, climate change and education.
"If we don't step up, things can get worse," the former president told the audience at the Anaheim Convention Center. "In two months, we have the chance to restore some sanity to our politics. We have the chance to flip the House of Representatives and make sure there are real checks and balances in Washington."
Obama gave shout-outs to seven Democratic candidates in competitive House districts across California that are considered crucial to the party's efforts to oust Republicans from control. Four of those districts are at least partly in Orange County, a formerly reliable GOP bastion that went for Hillary Clinton in the 2016 presidential election.
In Orange County, Republicans held a 13-point edge in voter registration 10 years ago but that has shrunk to 3 points while independents, who tend to vote like Democrats in California, have climbed to 25 percent.
Democrats, hoping to build on their 39-14 advantage in the state's congressional delegation, are eyeing Republican seats in districts that Clinton won in 2016. Each of the seven candidates that Obama campaigned for on Saturday fit that description.
He also made a plug for nonprofit executive Katie Hill in her Los Angeles-area race to unseat sophomore Republican Steve Knight, who won an underwhelming 53 percent of the vote in 2016.
California Republicans said Obama's appearance would have little impact and may even help their party.