A man came into a Houston auto detail shop and began shooting, killing a man known to be a customer and putting a neighborhood on lockdown Sunday before being killed by a SWAT officer, police said.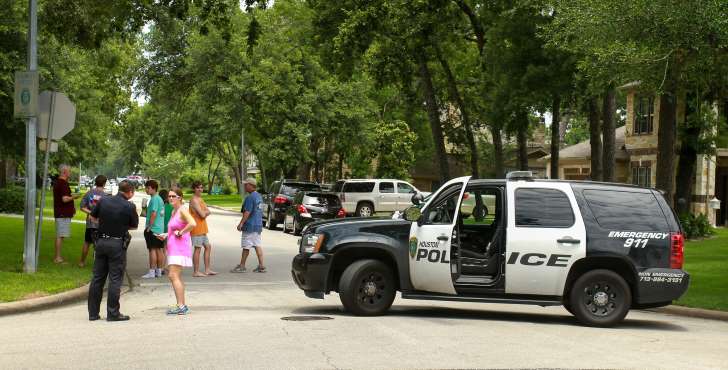 Several people were shot and injured, including a man authorities initially described as another suspect because he was present and armed. Police said later Sunday they were investigating further whether he played any role.
Three others — two of them male and one female — were hospitalized with injuries police said were not believed to be life-threatening. Two officers who were shot were released from the hospital later Sunday.
Police, who said they have no indication yet of a motive, said they got their first call about the shootings around 10:15 a.m. The customer described as a man in his 50s had just driven in to the auto shop. Within a minute or two, authorities said, the gunman came in and started shooting. Others in the shop ran out to take cover nearby and call for help.
Neighbors described hearing many gunshots, and some of the victims taken to the hospital were shot while driving their vehicles. Police say they believe a fire at a gas station next door began when gunfire hit a pump. At least three police vehicles were damaged by gunfire, one of them struck 21 times, and a police helicopter was shot at with a "high-powered" weapon and was hit five times, authorities said.
Stephen Dittoe, 55, lives in the house right behind the shooting scene, separated by a fence and tall shrubbery at the end of cul-de-sac.
"I heard the first shot and I thought it was a transformer" exploding, he said. His wife, Ha, 41, said it went on too long for that and described the series of staccato sounds.
She took their two children, ages 6 and 7, into the bathroom, told them to eat breakfast in there, and called 911.
About an hour after the shootings began, a SWAT officer killed the gunman, said Police spokesman John Cannon.
"If he hadn't taken that action that quickly, this likely would have been a lot worse than it was," Cannon said.
The county medical examiner may identify the gunman on Monday, Cannon said.
Houston Police Union President Ray Hunt says an officer who was hit several times in the chest was wearing both a metal breastplate and a bulletproof vest. The second officer was shot in the hand.
At the Dittoe house, Ha Dittoe said police came to the door about two hours later and asked if anyone in the house was being held captive, and if they could walk around the backyard.
The streets were still blocked off late Sunday afternoon with many police cars and fire trucks on the scene. A police SUV was seen with a shattered windshield and the back window broken out, and police said two patrol cars were riddled with bullets.