Thousands of homes are being evacuated in York after "unprecedented" levels of rain caused the Foss and Ouse rivers to burst their banks and the city's flood barrier to be lifted.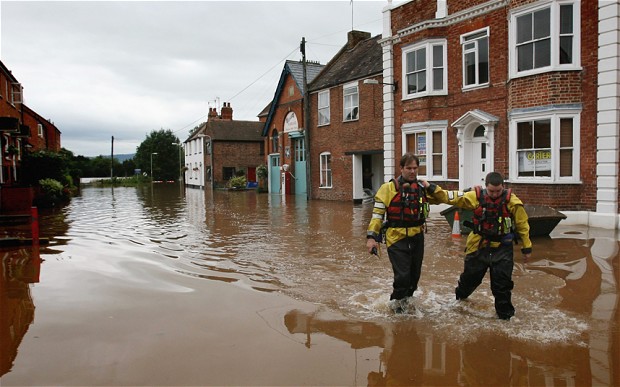 The Environment Agency has said water had entered the Foss Barrier's building, putting pumps in danger of failing due to electrical problems.
If the barrier became stuck in the "down" position, it would not have been able to discharge water into the River Ouse.
The agency then made the decision to lift the barrier, warning residents in the city centre to move valuables to upper floors and to prepare to leave their homes.
Flooding Crisis: Live Updates
The Prime Minister has confirmed more troops will be deployed to the north of England, where more than 7,000 homes remain without power following heavy rainfall.
David Cameron, who will visit the flood-hit areas on Monday, chaired an emergency meeting to discuss the response to the widespread flooding in York, Leeds and Lancashire.
He said: "We'll also make sure that the help we gave to Cumbria will also be available to other parts of the country.
"We'll do everything we can to help people in their hour of need."
Environment Secretary Liz Truss acknowledged that flood defences in York, Leeds and Lancashire had been "overwhelmed", and said they will now be reviewed.
Vulnerable people were moved from around 2,200 homes in York overnight, with residents of another 3,500 properties near the River Foss on standby to evacuate.
Dozens of severe flood warnings remain in place in Yorkshire and the North East, and engineers are working to restore power to more than 7,500 homes in Greater Manchester and Lancashire.
Hundreds of homes in Salford were evacuated after the River Irwell burst its banks and thousands of homes in Rochdale and Bury have been left without power.
On Sunday evening, 24 severe flood warnings – signifying a "danger to life" – were in place for Lancashire and Yorkshire and 111 flood warnings.
Electricity North West has said some properties may be without power until Monday because of the severity of the flooding.In North Wales, Red Cross volunteers are using 4x4s to transport doctors and nurses to Bangor Hospital following flooding of the A55 and surrounding roads.