New Prime Minister Theresa May will continue to form her new government later – as she begins her first full day in Downing Street.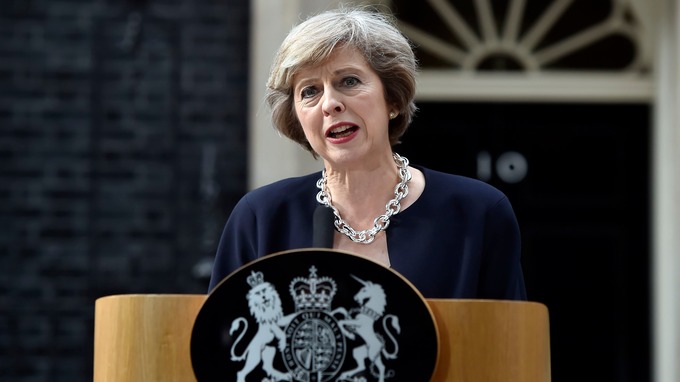 Leading Brexit campaigner Boris Johnson said he was "humbled" having been named new foreign secretary, in one of Mrs May's first cabinet appointments.
Philip Hammond became chancellor, Amber Rudd is home secretary, and Eurosceptic David Davis is new Brexit secretary.
Mrs May later told European leaders she was committed to the UK leaving the EU.
In a series of congratulatory phone calls taken by Mrs May on Wednesday evening, the UK's second female prime minister spoke to German Chancellor Angela Merkel, French President Francois Hollande and Irish Taoiseach Enda Kenny.
A Downing Street spokesman said Mrs May had "emphasised her commitment to delivering the will of the British people to leave the European Union".
"The prime minister explained that we would need some time to prepare for these negotiations and spoke of her hope that these could be conducted in a constructive and positive spirit," the spokesman added.
Mrs May will continue to fill out her new cabinet later on Thursday, with the new secretaries of state for health, education, and work and pensions among those expected to be appointed.
Mrs May began forming her new cabinet shortly after her arrival into 10 Downing Street.
Her first cabinet announcement was former foreign secretary Mr Hammond as chancellor – replacing George Osborne.
Mr Osborne had been fired because his "brand" was seen as "too tarnished", The Social Magazine political editor Laura Kuenssberg said.
Mrs May also appointed Liam Fox to the new position of secretary of state for international trade, while Michael Fallon was retained as defence secretary.
By Laura Kuenssberg, 
Whenever she happens to be near a microphone, Theresa May tends to say – absolutely truthfully it appears – that she just wants to "get on with the job".
Well she certainly has done that, wasting no time in announcing the most senior jobs in her cabinet, the first appointment only an hour or so after she walked in.
No surprise on appointment one – Philip Hammond, the former foreign secretary, becomes the money man. He's the embodiment of the phrase, "a safe pair of hands", and takes on the biggest role as Mrs May's supporter.
The biggest surprise is the appointment of Boris Johnson, the Tory members' darling, as the foreign secretary – one of the greatest offices of state, with a hugely different role as the UK contemplates life outside the EU.
Speaking on Wednesday night, Mr Johnson said he was "very humbled" and "very proud" at the appointment.
"Clearly now we have a massive opportunity in this country to make a great success of our relationship with Europe and with the world and I'm very excited to be asked to play a part in that," he told The Social Magazine.
However, Liberal Democrat leader Tim Farron predicted Mr Johnson would "spend more time apologising to nations he's offended" than working as foreign secretary.
After visiting Buckingham Palace, where she was formally appointed as prime minister by the Queen, Mrs May made her first speech outside 10 Downing Street.
She vowed to lead a government that worked for all, not just the "privileged few", promising to give people who were "just managing" and "working around the clock" more control over their lives.
For an "ordinary working class family", she added, "life is much harder than many people in Westminster realise".
She highlighted the "precious bond" between England, Scotland, Wales and Northern Ireland and between "every one of us".
Mrs May also paid tribute to her predecessor, David Cameron, saying he had been "a great modern prime minister".
Mr Cameron had earlier given his final speech as prime minister outside Number 10, saying the job had been "the greatest honour" of his life and that the UK was "much stronger" than when he took over.
He took part in his final Prime Minister's Questions in the House of Commons, where he was given a standing ovation by Conservative MPs, before formally tendering his resignation to the Queen.