The facelifted Mitsubishi Outlander PHEV will have its European premiere at the 2015 Frankfurt Motor Show.Alongside the new Outlander PHEV, Mitsubishi will be exhibiting the rally version of the Outlander PHEV to compete in the Baja Portalegre 500 cross-country rally and several production models in a total lineup of 15 vehicles.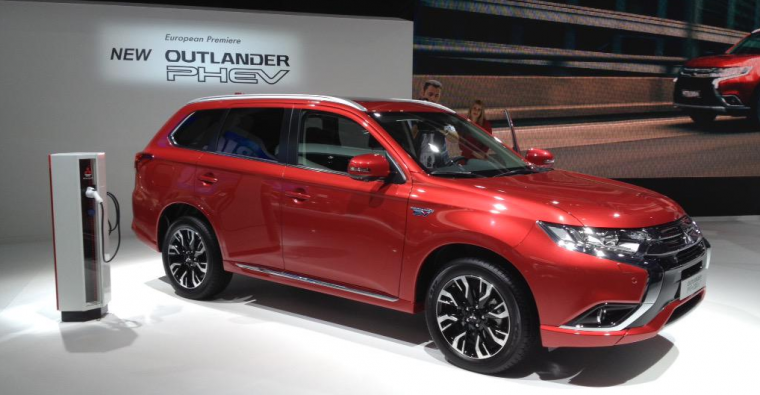 The new Outlander PHEV features a new front end look designed around the Dynamic Shield front fascia concept employed in recent MMC models. The interior brings an enhanced quality feel while improvements to the body, chassis and powertrain see a significant advance in interior quietness, acceleration, handling and stability, ride quality, environmental performance and other aspects of driving performance and quality.
The Outlander PHEV was first launched in Japan in January 2013 as the world's first plug-in hybrid 4WD SUV. Now exported to 48 countries including those in Europe, it is the world's fastest selling PHEV with cumulative sales of some 70,000 units.
It is powered by Mitsubishi Motors' Plug-in Hybrid EV system, comprising a Twin Motor 4WD drivetrain, with separate motors driving the front and rear wheels, and a high-capacity battery located under the floor that provides electric-only driving without gasoline usage nor CO2 emissions. Mitsubishi says acceleration and response from a full stop in urban environments as well as on the move has been improved thanks to updates to the Plug-in Hybrid EV system. Furthermore, the optimization of the Plug-in Hybrid EV System control and reduction in engine friction have reduced CO2 emissions from 44 g/km to 42 g/km.
Mitsubishi will also have a display outlining Vehicle-to-Home electricity supply system that will be available for the new Outlander PHEV.