The biggest carmakers on the planet are posting their sales numbers for 2017 – so who is officially ranked number one?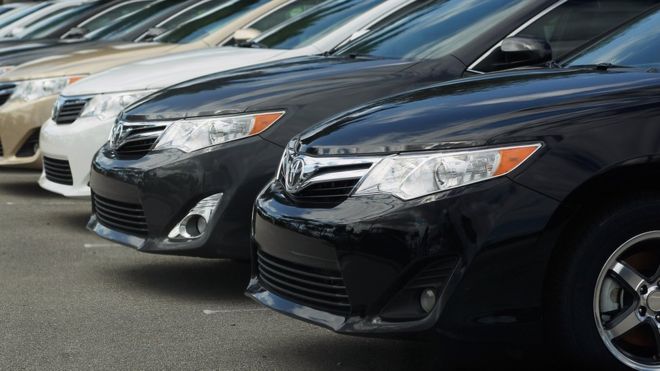 Is it Germany's Volkswagen Group – which knocked Toyota off the top spot in the 2016 figures?
Or one of the newer conglomerates which encompasses several car companies?
Perhaps the US titan, General Motors, has fought back?
The answer: well, it depends on what carmakers include in their global sales numbers. And, crucially, how you define a car.
Confusing
Claiming the honour this year is a new player: the Renault-Nissan-Mitsubishi alliance.
The Japanese-French group acquired Mitsubishi in 2016 and adopted its current name in September last year.
It's made up of ten brands, including Dacia, Datsun, Infiniti and Renault Samsung Motors. Combined, the firm says that with its 10.61 million passenger cars and light commercial vehicles sold in 2017, it has become "the number-one automotive group worldwide".
But that's a bit confusing.
Why? Because Volkswagen says it sold 10.74 million vehicles in 2017 – and some say those numbers should see it named the biggest of them all, for a second year running.
A heavy conversation
Working out who's top dog in car sales globally really depends on what kind of ranking you want, according to Anna-Marie Baisden, head of automobiles at BMI Research in London.
Some media reports have put the Renault-Nissan-Mitsubishi alliance as "the biggest seller of light vehicles" in 2017, and placed VW firmly in second place.
But those accounts stripped out so-called heavy vehicles from VW's numbers.
Heavy vehicles usually mean things like big trucks and buses – which seems reasonable. They are clearly not cars.
But VW includes its heavy vehicles in its global sales numbers. And so others took those figures at face value, and reported the German firm had maintained the number one crown, ahead of the Renault-Nissan-Mitsubishi alliance.
Just to add to the confusion, carmakers and countries have varying definitions of light and heavy vehicles.
Take the very popular SUV – or sports utility vehicle. Is it a light truck or a car
"But if you included every brand in a group, and all of the types of vehicles sold, this would start to favour a company like the VW Group, which has everything from small hatchbacks, VW and Seat, through to premium with Porsche, and up to big trucks under the Man brand."
If neither of those options tickles your fancy, however, the OICA (Organisation Internationale des Constructeurs d'Automobiles) is one of the best sites for global vehicle sales rankings.
But it includes passenger cars, light commercial vehicles, minibuses, trucks, buses and coaches in their figures. And it hasn't released its rankings for 2017 just yet.