Could fashion's obsession with being thin have led to the launch of the stiletto heel back in the early 1950s? That's one theory offered by Bruno Frisoni, creative director of luxury French accessories brand Roger Vivier, whose namesake founder was one of two creative footwear geniuses linked to its inception. The other was his competitor, Italian shoemaker Salvatore Ferragamo, known as the 'shoemaker to the stars', with Marilyn Monroe, Gloria Swanson and Bette Davis among his clients.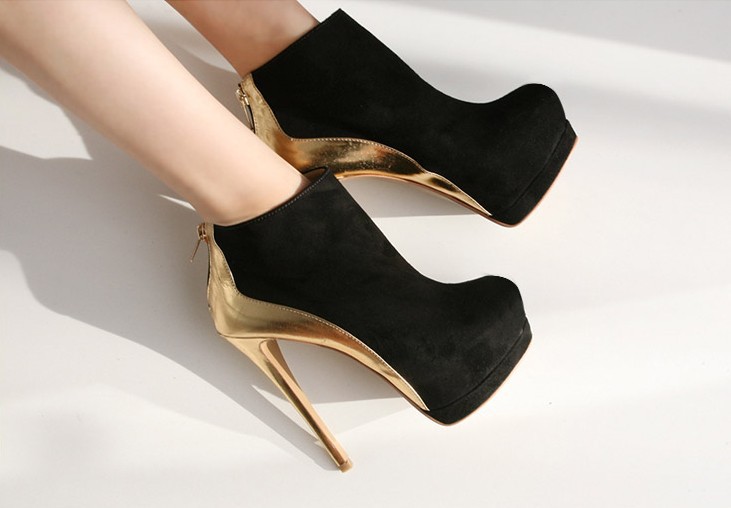 "We will probably never know who was the first. It's a bit like the debate over who invented the miniskirt – Courrèges or Mary Quant?" says Frisoni. Vivier, who for his part shod the likes of Marlene Dietrich, Elizabeth Taylor and Catherine Deneuve, took an architect's approach to his art, creating shoes meant to 'redesign the feet', like the role of the corset in fashion. He designed his first-ever stiletto heel to be 'very fine with a slight curve'.  It was all about the silhouette, Frisoni says. "The silhouette is really the first thing that speaks, and if we think of couture or sophistication or sexiness, it's always all about the thinnest creations fitted to the body.  So I think it's the same idea that's probably what brought about the stiletto."
New materials and techniques invented for aircraft systems during World War Two, such as aluminium and the process of fusing plastic with metal, paved the way for the development of the world's thinnest heel, according to Frisoni. He compares the engineering feat of the stiletto heel – fitted with a thin metal "needle" of solid steel measuring a minimum of 5mm in diameter – to the foundations of a building. "To keep the heel attached to the body of the shoe, which requires three or four nails or screws, you have certain dimensions to respect, a minimum of space and we still try to reduce this space, to go even thinner," says Frisoni. "Although nowadays when people look at a thinner heel, they ask, 'Is it practical, can I walk with it, will it break?' The important thing is driving sexiness in people's minds. His ideal proportions for a stiletto – now the generic name for a shoe with a stiletto heel – is around 8-8.5cm (3.2-3.4in) with a very thin sole. "If it's really thin, it doesn't need to be so high," he says.
Blade runner
Though the Oxford English Dictionary attributes the first mention of the so-called stiletto heel – named after an Italian knife with a short dagger and tapering blade – to an article that ran in Valparaiso, Indiana's Vidette-Messenger newspaper on 20 April, 1931, with sketches of fetishist stilettos said to have been traced as far back as the 19th Century, the style really took flight in the 1950s. Manolo Blahnik reignited the flame in 1974 with his version of the slim-heeled, pointy toed shoe – dubbed 'the needle' – which held 'It Girls' like Paloma Picasso and Bianca Jagger in its sway, as a sexy alternative to the chunky platforms of the time. The shoes' popularity was to endure. In the early '90s Madonna likened Blahnik stilettos to sex, while a famous scene in a 2000 episode of HBO's Sex and the City saw Carrie Bradshaw pleading with a thief to spare her favourite pair of "Manolos".
Pushing the stiletto to new heights, Paris-based shoe designer Christian Louboutin, with his iconic trademarked red soles, has fuelled the stiletto's erotic, fetishist associations. Louboutin's recent role as guest creator of the 2012 show Feu (fire) at Paris cabaret Crazy Horse gave him free rein to explore the theme. Among the acts, Spoutnik saw dancers gyrating on a rotating table with detached silver heels as their conceptual footwear, attached by two fine straps around the ankle and foot; while Legmania featured rows of black-stockinged dancing legs in ballet shoes with giant spiked heels that curved like safety clips to run parallel with the soles. No designer is safe from a breaking heel, and that worry inspired another of the Crazy Horse show's scenes, based around the idea of heels that break and then snap back into place. "I can't speak for other designers but I'm pretty sure that everyone designing shoes on a professional level has this nightmare [of heels breaking]," Louboutin told Women's Wear Daily.
In the past, women would only wear their stilettos at night and use a shorter heel during the day, but the recent fixation for skyscraper stiletto heels by celebrities whatever the occasion has led to them being adopted by women for everyday wear. Extreme footwear ambassador Lady Gaga, who pays homage to them in her song Fashion, and whose personal collection includes a pair of 10in Alexander McQueen lobster-claw heels, figures among the influencers. US Vogue contributing editor André Leon Talley openly opposed the trend, writing: "Too many career women look like a herd of fashion beasts, aping one another in impractical shoes…Designers with an obsession for towering torture chambers, often poorly designed for the well-being of the foot, must get a reality check."
Needle and the damage done
The side effects of wearing stilettos range from lateral ankle sprain to arthritis and fractured metatarsals. Heels over 3in put almost seven times the pressure on the ball of the foot as flat-soled styles, which is reportedly higher than the pressure on an elephant's foot. For Daphne Guinness, who also owns a pair of the famous McQueen lobster-claw heels, mimicking a ballerina's posture is a sport. "If you look at them carefully, they're not that tall. They've got a huge platform. With any shoe, you have to condition like you're conditioning for a sport. You work out different muscles," she told New York Magazine's blog The Cut. A number of classes have sprouted catering to the art of walking in stilettos. Victor Chu, nicknamed the 'Stiletto Whisperer', runs one called How To Walk in High Heels New York City, teaching students how to elegantly negotiate uneven pavements and subway grates.
More than half a century since its launch, it appears legions of women the world over are still willing to suffer for their stilettos, even going to the extreme of injecting cushioning under the balls of the feet. Just ask Victoria Beckham, who reportedly "can't concentrate in flats," and has endured bunions and a slipped disc in the name of her 5in heels. In December, the Spice Girl-turned-fashion designer was even snapped wobbly perched on a ladder in stilettos trying to place a Posh Spice doll on top of a Christmas tree.
With its pure lines, perfect proportions and sharp silhouette, the stiletto packs a punch in terms of aesthetics – a shoe as sculpture. But it's also the lofty footwear's posture-altering ability that continues to magnetise fans, forcing the wearer, who is placed in a tiptoe position, to thrust their chest forward and arch their back for balance, while seductively curving the foot and giving the illusion of a longer leg. Fans will claim that stilettos, more than any other shoe style, make them feel confident, sexy and glamorous. Or, to quote expert stiletto-wearer Marilyn Monroe: "Give a girl the right shoes, and she can conquer the world."