We're sure that some of our readers love completing DIY projects in the home. But they may not have space where they can work on these projects quietly with enough space and the right tools. That's why you should consider adapting your garage into a space like this. If you do this, you'll find it's the perfect place for some DIY work. It's separate enough from the home that your house won't be a mess. But it also provides you shelter and warmth away from the elements, unlike a tool shed. So, how can you convert your garage into the perfect space?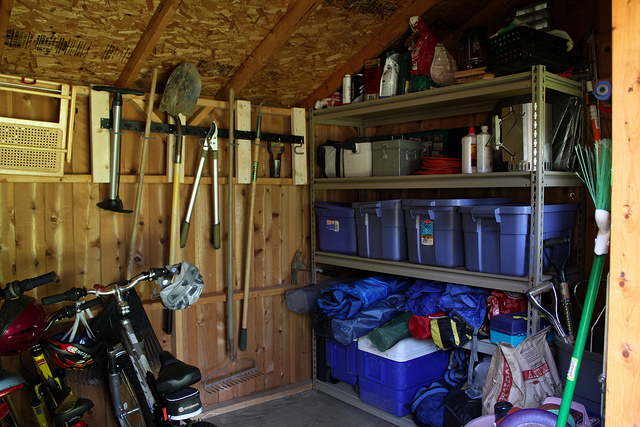 Clean Out The Junk
Most of us use our garage to store things that don't fit in the house. But, if you want a great work space it needs to be clean and clear. That means it's time to get rid of everything that you don't need. We suggest you start by hiring a skip. This is the easiest solution if your garage is a complete mess. Empty all the junk into the skip and then someone else can collect it to take it off your hands. Once you're finished, you should have a nice, clean area to work with.
After you've done this, you may want to look into the possibility of covering for your garage floor. There are two reasons for this. The first is that it will provide better insulation and the second is that it will keep it protected. A plastic covering is best because the carpet is difficult to maintain.
A Work Bench
Next, you need to set up a workbench in your garage. This workbench should be completely adjustable, allowing you to stand up or sit down. Something like a Black & Decker Workmate is ideal as it will give you a range of different options for jobs. You may also want a larger bench or work area secured to the walls of one of your garage. Just be careful that it doesn't block the door of the garage if you still want to use it for your car.
Fantastic Storage
There's nothing more frustrating than not being able to find the tool you need for a DIY job. Usually, this is because, in a garage, tools are just dumped in boxes. You want to avoid this and instead use something like heavy duty drawer runners. This will allow you a great storage option with clean moving draws that let you see everything in them. Due to the industrial design, they will also be able to hold heavier items.
Buying All The Tools
Now comes the fun part because you can purchase all the tools you need. It's okay to go a little overboard here particularly if you're shopping during the sales. You'll find some great tools from electric drills and welding kits. It does depend on what jobs you want to be able to complete yourself. We're sure that there are quite a few you're anxious to get your hands dirty with. So, make sure you invest in a complete set of tools to use.
Once you're finished, you're going to love completing some good old fashioned DIY in your garage.