The recent bounce in energy stocks tells you that it's time to get in, saysRich Ross, head of technical analysis at Evercore ISI. Looking specifically at the PHLX Oil Service Sector Index (commonly known as the OSX), Ross predicts as much as 25 percent worth of upside ahead.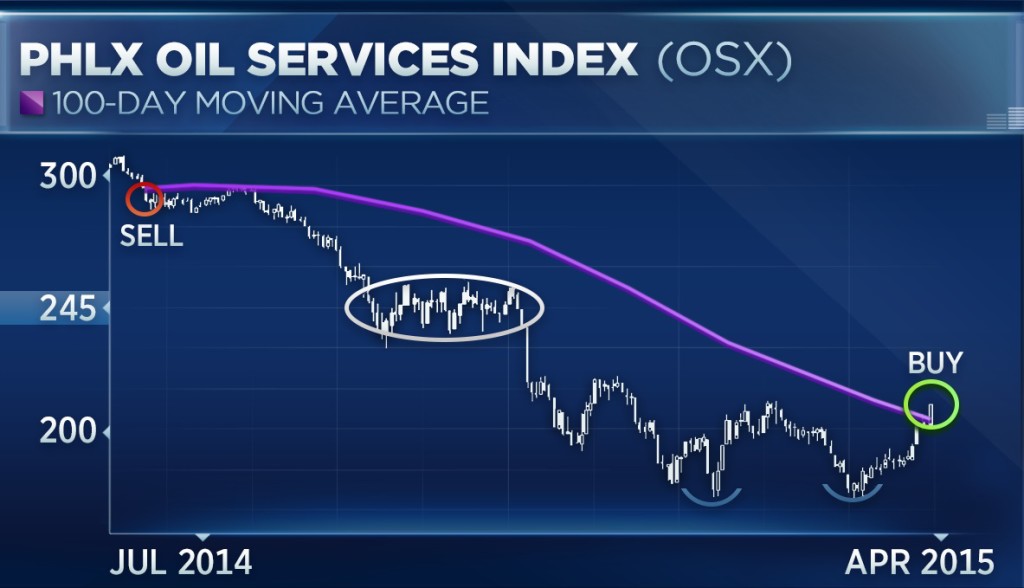 It all comes down to the chart. Ross notes that the oil service index, which is home to such names as Halliburton, Diamond Offshore,Transocean and Schlumberger, broke decisively above the 100-day moving average on Thursday for the first time since July 2014.
This was "a very important breakout today for the OSX," Ross said Thursday on CNBC's "Power Lunch." "That's generated a very strong buy signal here."
He says that when the index fell sharply below that smoothing mechanism in July, it generated a powerful sell signal. Now, the opposite is true.
In addition, Ross spots a recent "double bottom" on the chart, which could indicate that the index is finding buyers at a given level.
All in all, "we think there could be another 15, 20, 25 percent upside in these OSX names," he said.
From the fundamental angle, Erin Gibbs, equity chief investment officer of S&P Capital IQ, thinks investors may indeed begin to take a liking to energy stocks, which have bounced powerfully in the past month along with oil.
"I think as we move further in the year and people start looking at 2016 and we start looking again back at growth, these companies are really going to have that value," she said.
In addition, energy stocks should be supported by "the fact that they offer a 3 percent dividend yield versus 2 percent for the S&P 500. So I just see a lot more potential appreciation, versus the broader index, for energy," Gibbs said.