Obama held his last scheduled news conference of 2016 on Friday before heading off on a two-week family vacation in Hawaii. The session clocked in at an hour and 27 minutes, a record for the Obama presidency.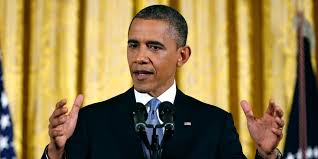 The end-of-year meeting with reporters in the White House briefing room has become an annual tradition a chance for the president to reflect on the successes and failures of the past year and begin to set the agenda for the next.
But this year's event featured a lame-duck Democratic president who is seeking to define and defend his legacy against a new Republican power structure that has promised to dismantle it.
During the news conference, Obama also:
► Declined to give his views on the decision by FBI Director James Comey to disclose new developments in the Clinton private email investigation just days before the election; Clinton aides have also blamed Comey for the Democratic candidate's surprising election loss.
► Called for an impartial international force to supervise evacuations from war-torn Aleppo, Syria. Obama denounced the "horrific violations of international law" in Aleppo and laid the blame on Syrian dictator Bashar al-Assad and his patrons in Russia and Iran.
► Acknowledged some personal regret and responsibility over the violent fate of Aleppo and Syria in general: "I ask myself every single day: is there something I could do to save lives and make a difference?" He also said he "cannot claim that we have been successful" with his strategy. He also noted that one of the alternatives would have been a dangerous and expensive U.S. "takeover" of Syria.
► Avoided comment on efforts by Trump opponents to get members of the Electoral College to vote against the president-elect next week. The president did describe the Electoral College as "a vestige, a carryover, from a different vision of our country."
► Suggested that Trump needs to think through any plans to change the "one China" policy in which the U.S. refuses to recognize Taiwan, and assess how mainland China might react to that. "For China, the issue of Taiwan is as important as anything on their docket," Obama said.
► Declared Thursday the deadline for signing up for coverage under the Obama health care law — as the biggest day in Obama care history, with more than 670,000 people signing up for coverage.