Microsoft Surface Pro 5 rumors are floating all over the world that the Microsoft's new Surface Pro 5 is really coming in the upcoming 2017 or not. The news is not confirmed, but it is saying that the Surface Pro 4 is nearing its one year anniversary and there may be a possible chance of something new from Microsoft after the last LinkedIn purchase by Microsoft.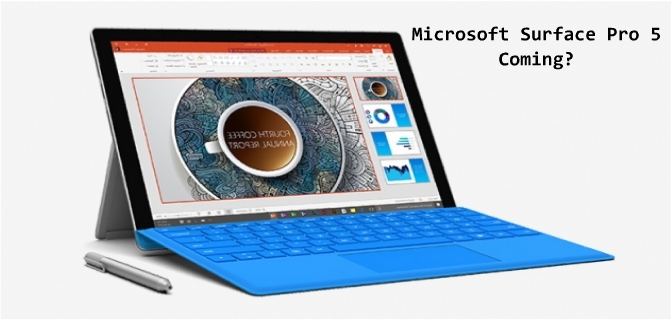 Microsoft Surface Pro 5 Price
Microsoft Surface Pro 5 price still a mystery as of its launch as we mention above and the company did not reviled yet. Microsoft Surface 4 the revolutionary device was sold at $899 (roughly £676.22 & AU$1187.24). There is no comment or a word for the Surface Pro 5 price, but we can expect it as a bit high in price somewhat $999 (roughly £751.44 & AU$1319.30).
Microsoft Surface Pro 5 Specifications
Microsoft Surface Pro 5 Specifications may not fully differ from the Surface Pro 4's. Surface Pro 5 may occur in 13 inch display with up to 10 point multi-touch. A 4GB, 8GB, or 16GB RAM option and SSD up to 1TB or above. It may powered by the latest 6th Gen Intel Core m3, i5, or i7 processors and Window 10 Pro (64 bit). A single year or two year limited hardware warranty with a weight of around between 766g to 800g according to their specs and power with a powerful 11 hour battery pack.
Microsoft Surface Pro 5 Full Specifications
| | |
| --- | --- |
| Specification | Microsoft Surface Pro 5 |
| Display | 13 Inch |
| Multi-touch | Up to 10 points |
| RAM | Up to 16GB |
| ROM | SSD Drive up to 1 TB |
| Processor | 6th Gen Intel Core m3, i5, or i7 |
| OS | Window 10 Pro (64 bit) |
| Weight | According to Specs. |
| Battery | Yes (Up to 11 Hours) |
| Warranty | Not Confirmed |