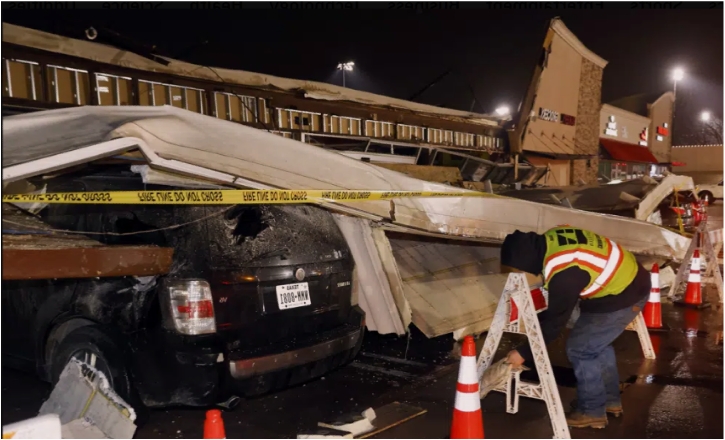 A massive storm system wreaked havoc across several states in the United States, causing damage, power outages, and fatalities before heading towards the Northeast. The powerful storm brought heavy snow, coastal flooding, and strong winds, leaving a trail of destruction in its wake.
According to reports, the storm caused at least ten deaths across the South and Midwest regions, with falling trees claiming the lives of three people in Alabama alone. In Mississippi, a woman died after a rotted tree branch fell on her vehicle, while a man drowned in Arkansas after driving into high floodwaters. Two people also lost their lives in Tennessee when trees fell on them.
Kentucky was hit particularly hard, with three weather-related deaths reported in three different counties as storms with straight-line winds moved through the state. In response, Gov. Andy Beshear declared a state of emergency before the storm hit, and on Friday evening, the mayor of Louisville, Craig Greenberg, followed suit, citing the severe storms, high winds, widespread damage, and danger to lives and property.
"I encourage everyone in our community to exercise extreme caution this evening, and in the coming days – do not drive through standing water, do not approach downed power lines, or do anything that would put the lives of anyone at risk," Greenberg said in a Facebook post.
The National Weather Service in Louisville called the storm on Friday "powerful and historic," with peak wind gusts between 60-80 mph (96-128 kph). As a result, more than a million utility customers in Kentucky, Tennessee, and Michigan were without power on Friday evening, according to poweroutage.us.
The storm system continued to move towards the Northeast, prompting the National Weather Service to issue a winter storm warning for the region. A mix of snow, sleet, and rain was expected to start on Friday night and last into Saturday, with the potential for coastal flooding in Massachusetts and Rhode Island. Parts of New Hampshire and Maine could see as much as 18 inches (45 centimeters) of snow, while strong winds could cause power outages.
Airport officials in Portland, Maine, canceled several flights for Saturday ahead of the storm, and some libraries and businesses in the region announced weekend closures. Despite the potential for more severe weather, most New Englanders were taking the storm in stride, with warmer weather expected to return by the end of the weekend.
However, the storm's impact was felt far beyond the Northeast. Earlier in the week, the weather system slammed California with up to 10 feet (3 meters) of snow, leaving some residents in mountains east of Los Angeles stranded in their homes for at least another week after the snowfall proved too much for most plows.
The storm's impact on transportation was also significant, with poor road conditions and numerous vehicle crashes reported across much of northwest Indiana because of heavy snowfall on Friday afternoon. The Detroit Metropolitan Airport closed on Friday evening because of rapidly deteriorating weather conditions, and Detroit-based DTE Energy reported more than 130,000 customers without power.
The recent severe weather has caused significant disruptions to daily life and brought to light the importance of preparedness in the face of natural disasters. Officials have urged residents to exercise caution and take necessary precautions to ensure their safety, such as avoiding driving through standing water or approaching downed power lines.
As the storm continues to move across the country, it remains unclear what further impacts it may have. However, one thing is certain – the importance of remaining vigilant and prepared in the face of unpredictable weather patterns cannot be overstated.