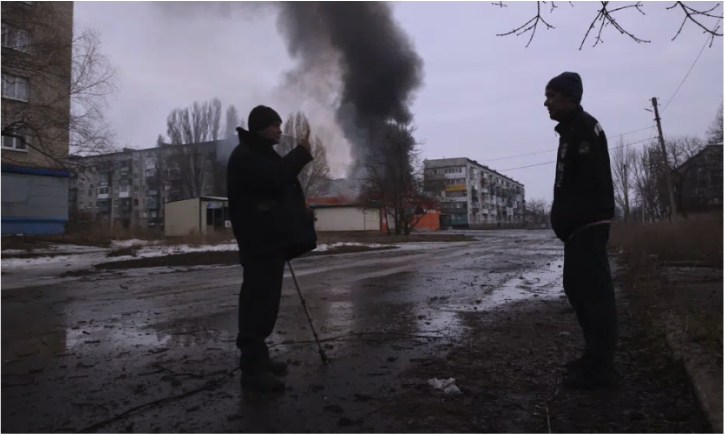 In a brazen move, drones that Russia says were launched by Ukraine flew deep into Russian territory, with one getting within 100 kilometers of Moscow. The attacks occurred on March 1, 2023, raising questions about Russia's defense capabilities more than a year after the country's full-scale invasion of Ukraine. Officials reported that the drones caused no injuries and did not inflict significant damage.
The drone attacks targeted regions inside Russia along the border with Ukraine and deeper into the country, according to local Russian authorities. Three drones also targeted Russia's Belgorod region on Monday night, with one flying through an apartment window in the capital, local authorities reported. The Russian Defense Ministry said Ukraine used drones to attack facilities in the Krasnodar region and neighboring Adygea.
While Ukrainian drone strikes on the Russian border regions of Bryansk and Belgorod have become a regular occurrence, other strikes reflected a more ambitious effort. Some Russian commentators described the drone attacks as an attempt by Ukraine to showcase its capability to strike deep behind the lines, foment tensions in Russia, and rally the Ukrainian public. Some Russian war bloggers described the raids as a possible rehearsal for a bigger, more ambitious attack.
Ukrainian officials did not immediately take responsibility for the drone attacks, but they have previously avoided directly acknowledging responsibility for past strikes and sabotage while emphasizing Ukraine's right to hit any target in Russia.
The drone attacks raise concerns about the ongoing conflict between Russia and Ukraine and the potential for further escalation. The attacks come as tensions have been on the rise between the two countries, with Russia amassing troops near the Ukrainian border and conducting military exercises.
The situation highlights the continued instability in the region, with both sides continuing to engage in aggressive actions. The drone attacks also underscore the growing use of unmanned aerial vehicles in modern warfare and the challenges they pose for traditional defenses.
As per Austria News the drone attacks on Russian territory by alleged Ukrainian drones have raised questions about Russia's defense capabilities and tensions between the two countries. While officials have reported no significant damage or injuries, the attacks highlight the ongoing conflict and the potential for further escalation.